Need replacement parts for this Genie Garage Door Opener model?  >>CLICK HERE<<
Genie's ChainMax 1000 garage door opener offers the best in traditional chain drive operation. Dependable, reliable and long-lasting, the ChainMax is an affordable option with superior design and quiet performance. Count on years of worry-free service with only minimal occasional maintenance needed. With a powerful 140-volt DC motor suitable for residential garage doors up to 7' height (8' with use of extension kit sold separately), you get smoother door travel and easier installation.

The ChainMax 1000 incorporates a C-channel rail design, allowing for flush-mounting capability and a clean appearance while protecting against dirt and debris. Safety features include the self-diagnostic Safe-T-Beam system that helps prevent accidents with an LED beam of light across the door opening. If an object crosses the light while the door is closing, the door will reverse back to the fully opened position. The ChainMax is also equipped with Intellicode rolling code technology that prevents unauthorized persons from opening your garage door by automatically changing the access code every time you use it. The two-bulb bright lighting system is made for 100-watt bulbs and an innovative powerhead design that directs light toward the rear of your garage, where it's needed most!
This garage door opener includes multiple accessories for ease of use. Two pre-programmed 3-button remotes allow you to open the door from the convenience of your car. The Wireless Keyless Keypad gives you the ability to open the door with a personal PIN number, either from inside your home or mounted on the exterior of your garage. The Multi-Function Wall Console operates the garage door from inside the garage, plus provides you with a light control button and a vacation lock.
Easily programmable, safe and secure, the Genie ChainMax 1000 is the perfect way to get peace of mind and convenience in a garage door opener.
3/4 HPc* POWER: 140 Volt DC motor provides power to operate almost any residential garage door up to 7' high out of the box, or up to 8' high with an extension kit (sold separately as part number 37301R).
OPENING SPEED: Up to 7.5 inches per second to provide fast performance.
ACCESSORIES INCLUDED: Two preprogrammed-3-button remotes, a wireless keypad, giving you the ability to open the door with a personal pin number, and a Multi-Function wall console with vacation lock and light control button.
SMARTSET™ PROGRAMMING: Push-button programming makes set up fast and easy.
GENIE EXCLUSIVE: Out-of-the-box works with popular built-in car remotes systems such as HomeLink and Car2U without the need for any additional hardware, such as bridges or repeaters.
STANDARD FEATURES INCLUDE: Safe-T-Beam Non-contact reversing system, GenieSense Monitoring and diagnostic technology, and Intellicode Access security
LIMITED LIFETIME MOTOR AND GEARBOX WARRANTY: 15-year chain, 5-years parts, and 1-year accessories warranty.
 Notice to California Residents: As of 07/01/2019, this item cannot be shipped to the state of California due to Senate Bill No. 969. If the shipping address on any order is the state of California the order will be canceled. California residents must purchase a garage door opener with a battery backup included. Please see other options of Genie garage door openers with battery backup options to purchase.  
UPC: 050049018702
SKU: 37280U
ASK A QUESTION
View full details

3022-TKH ChainMax® 1000 - Chain Drive Model ¾ HPc Garage Door Opener
$0.00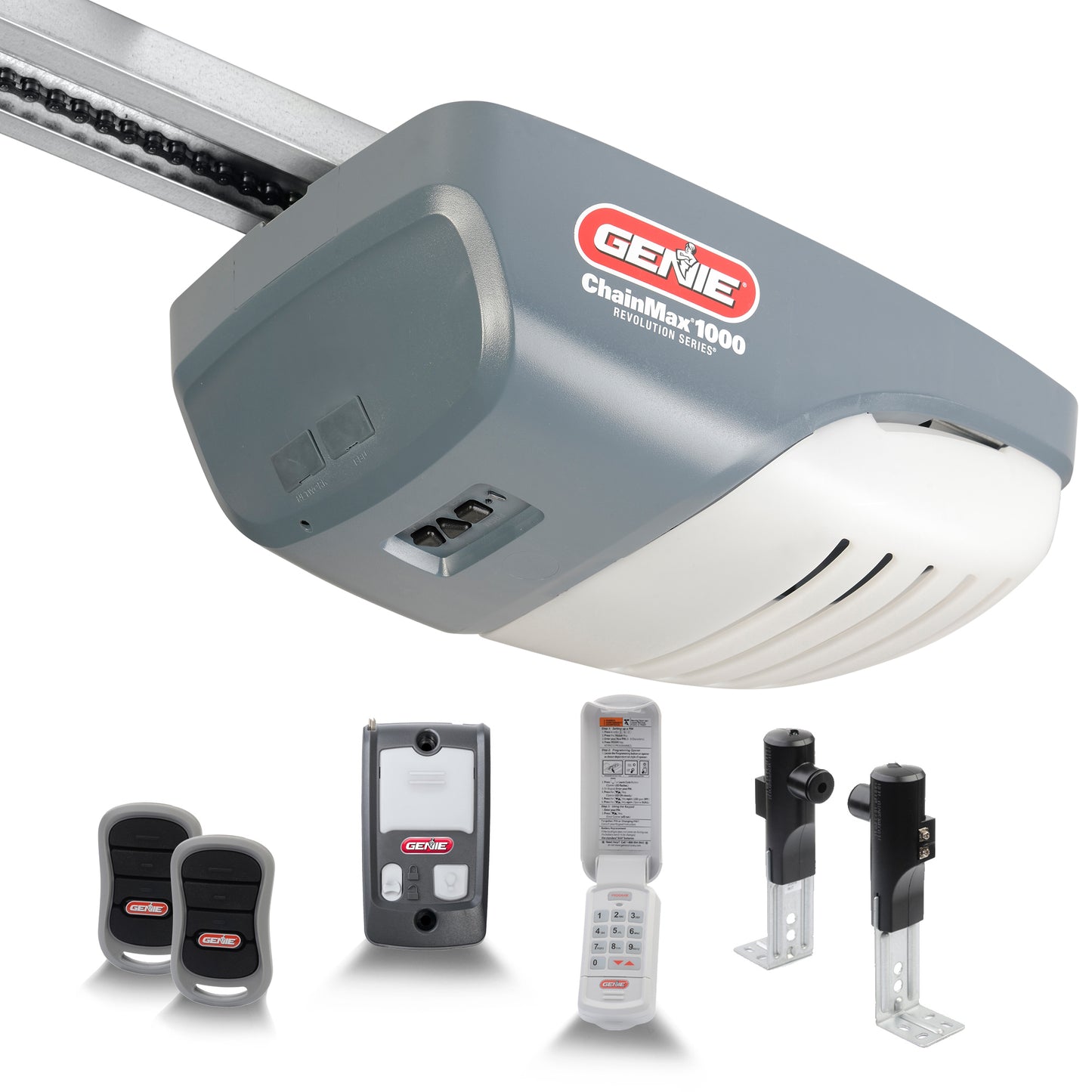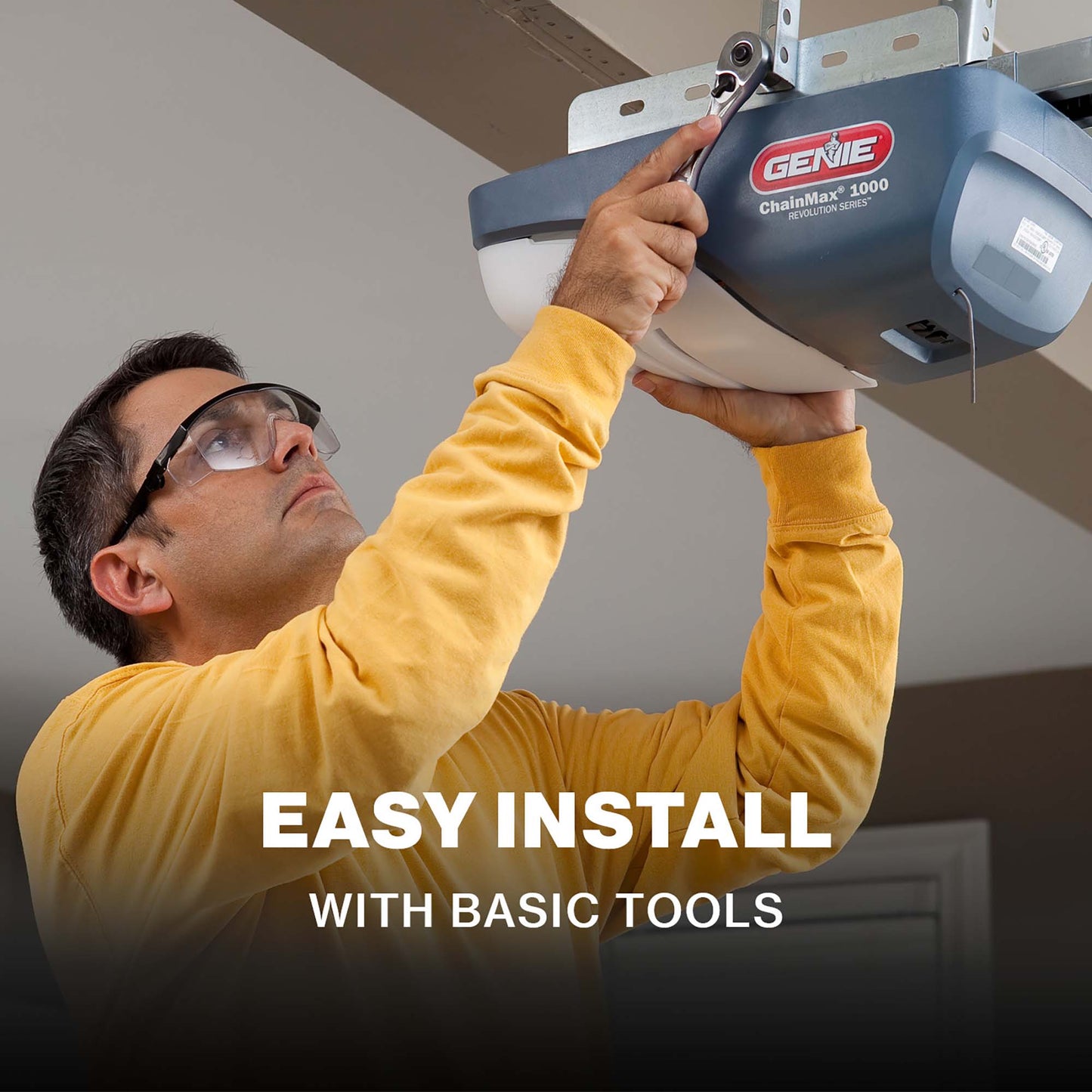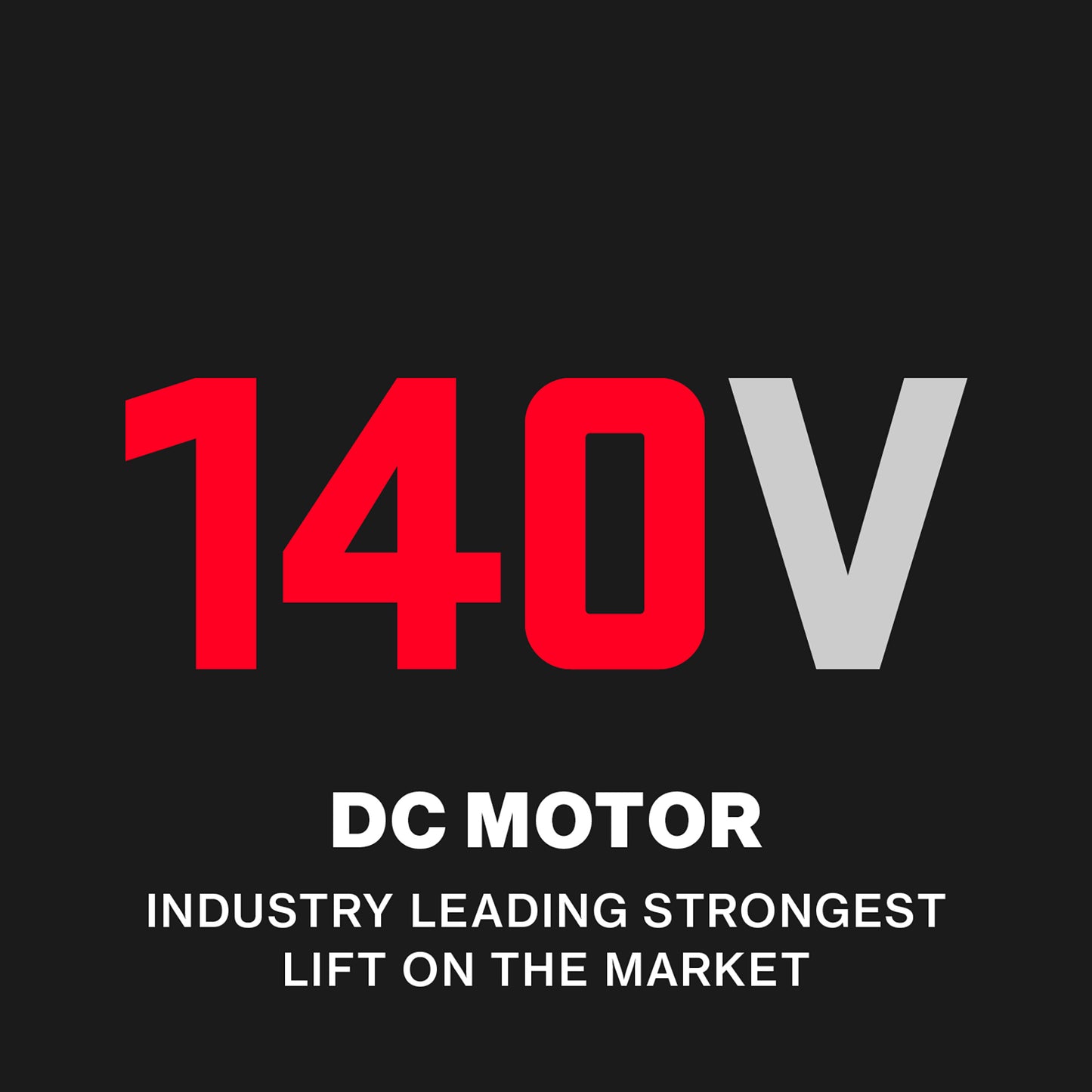 How to program a new vehicle to operate the overhead door

If you have nothing else programmed into your HomeLink:

Press and hold the two outer buttons on the HomeLink until the HomeLink light begins to flash. Release the buttons. Now press and hold the HomeLink button you want to use and your hand-held remote button at the same time. The HomeLink light should start flashing when you press it in, keep both buttons held in until the HomeLink light flashes rapidly. Then release both the remote and HomeLink. Go up to the powerhead on the ceiling and press and square button until you see two blue lights beside it, release the square button, press and release the square button, you should now have a purple flashing light. Go back to your vehicle and press and hold the HomeLink button you paired with your remote, count 1,2, release, do the pressing, counting, and releasing 3-4 times. If you have other things programmed into your HomeLink skip the step "Press and hold the two outer buttons on the HomeLink until the HomeLink light begins to flash".

how do you program a remote?

To program the remotes, you will need to press and hold the square PRG/SET button on the power head until you see a blue light, then release the button. When you release a purple blinking, light comes on. Step away from the unit a few feet, and slowly and firmly press and release the button on your handheld remote that you wish to program 3-4 times. The door should operate. When this happens, your remote is programmed.

I have a 16' wide by 8' tall garage door does this model come with a longer rail to accommodate this size door?

Yes, there is an extension kit for Genie model 3022, it is Extension Kit (to 8') for 3 Piece, Chain Drive C-Channel Rails.

Our opener has turned off and there is a blue light flashing on the opener. How do I reset it?

If there is a long blue flashing light, this indicates the lock on the wall console is locked.  Make sure the lock is unlocked and retry the operation.


I am looking for a direct replacement for my existing Model # 3024. (IntelliG 1000). Is the rail for the 3022-TKH the same demension? (approx 1 1/4" X 3")

Yes, the 3022 and the 3024 models have same dimension for the rail and head.

Must the laser sensors be installed? My current 35 year old opener does not have wiring (except for power outlet and wall console.

Yes, the Safe-T-Beams are required to be installed.

Can this replace the 1035 opener, use rhe same chain and rail system?

No, the 3022 model uses a different rail than the 1035 model uses.

Looking for a direct replacement for my gcg350l. Is this opener that will work with existing rail and chain?

No, it will not. We no longer have any models that would work with the same rail as the GCG350L did.

Can I install this to my existing genie rail system?

What is the current model Genie garage door opener that you have installed?

I am replacing a model 3024 power unit (not chain). Will the 3022 power unit easily replace the 3024 without adjusting the chain?

Yes, you can use the 3022 model to replace the 3024 model and keep using the same chain rail.

What are the dimensions of the drive unit?

The overall length of this installed would be 10.6 feet.

Will this work with single one piece garage door?

Yes, it will.

How long is the electric cord on this unit?

Hi Dana -

The cord on this operator is 4 Ft long.  An electrical outlet needs to be installed within 3.5' from garage door opener

How many extensions can you add to this Chain Max. I need 10' lift

You can only add up to one extension kit so this model would work on up to an 8-foot high garage door.

Can I buy just the motor head assy and use my existing chain drive 1/2hp genie track etc ? I have a double door and want a stronger motor to raise the door easier and faster.

We do not sell the powerheads by themselves.

I have an old PMX70 model. Which should I buy to just pop out/pop in new one

You will have to remove the old powerhead and rail to replace with the new one for any of the newer garage door openers. The lengths will all be different compared to the older one so your angle iron on the ceiling may/ or may not need to be adjusted. It would be your preference as far as which one to switch to. If you have questions about a specific model, please let us know. The 3022-TKH ChainMax 1000 would be a great option.

I am replacing a Genie Intellicode Chain Glide GCG 350L 1/2 hp that has just expired. Will this unit bolt in to the same bracket that is installed or is there more installation to preform?

The length and width of this garage door opener will be different. Adjustments will need to be made to the brackets when installing.

here is what I was looking at: Genie ChainMax 1000 Garage Door Opener - Durable Chain Drive - Includes two 3-Button Pre-Programmed Remotes, Wall Console, Wireless Keypad, Safe-T-Beams - Model 3022-TKH, 140V DC Motor. Is this a complete system?

Yes, this is the complete system. It has the motor, rail, accessories, and all installation hardware included.

Will this unit work with homelink on a 2004 car?

Yes, it will!

Will this unit work with an 8 ft. door?

It will with the added extension kit, model EKCC.

Do I have to purchase a backup Battery to have this unit running

No, you do not have to use a battery backup. This will plug into the electric outlet. 

Is this a Series II or Series III opener?

The 3022-TKH ChainMax 1000 is a series II garage door opener.

The door does not open and the leds are red.

I recommend resetting your travel limits. 


To program the limits, you will want to press and hold the down arrow button (-) until the long LED comes on blue.  Release, and the LED will begin to flash blue. Press and hold the down arrow button (-) to close the garage door. When the door lightly touches the ground, you will release. Press and release the square button. Both LEDs flash blue and go off.

>

> Press and hold the open arrow (+) until the long LED comes on blue. Release. Press and hold the open arrow to open the garage door. When the door is all the way open (do not allow it to hit the powerhead). Release. Press and release the square button.  Both LEDs flash blue and go off.

>

> Go to the wall console and press and release the button on the wall to fully close the garage door. Once the door is fully closed, you will want to press and release the button on the wall again to open the door all the way.
Product Support for Genie Garage Door Openers 3022, 3024, 3042, 4022, 4024, 4042   (ChainMax™ 1000, IntelliG® 1000, SilentMax® 1000, ChainMax 1200, IntelliG® 1200, SilentMax® 1200)
Chain/Belt Drive Installation Poster
Chain/Belt Drive Owners Manual
Standard Genie Garage Door Opener Features
Keeps your home and family safe by changing the access code from billions of combinations at each door activation to help prevent unauthorized access.

Patented technology that automatically finds the best line of communication between Genie® products. This maximizes the range of radio frequency devices and improves the overall performance of products.

Provides safety by continuously monitoring the operation of the garage door opener, stopping the operation to alert you when significant changes occur.
Shop additional remotes for your Genie Garage Door Opener

FREE SHIPPING ON ALL US ORDERS 17.99 AND UP