Regular price
Sale price
$59.99 USD
Unit price
per
Sale
Sold out
Replacement battery for the battery back-up that came on Genie models 7035, 7055, 3020H, and 3020H-B.  
SKU: 111658.0002.S
In Stock! Usually ships within 24 hours.
ASK A QUESTION
View full details

Battery BackUp Replacement Battery- 111658.0002.S
$59.99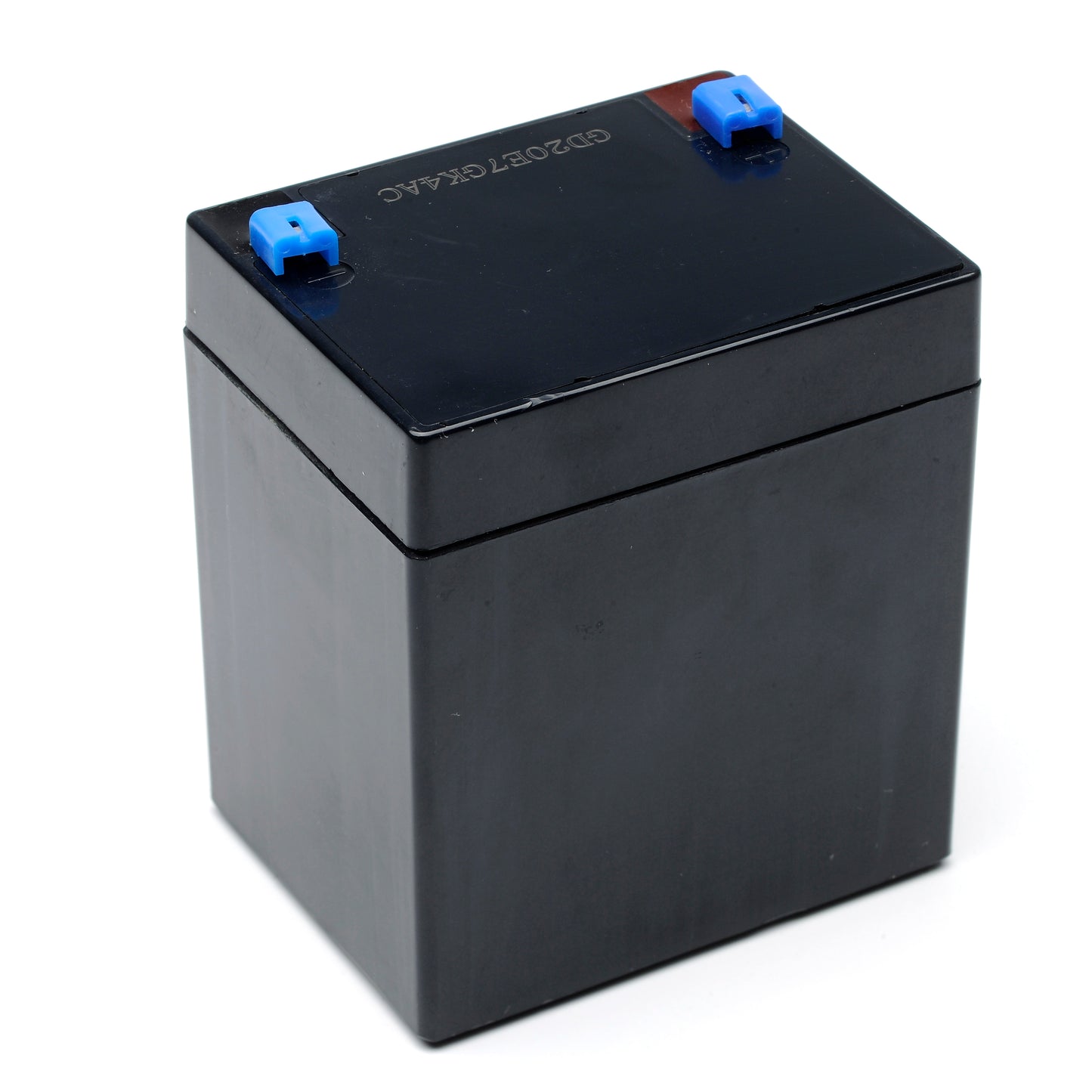 Is there any other place that sells this backup battery for model 7055

Currently we only sell this on our website.

What is the voltage of a fully charged battery?

The voltage of the fully charged battery is 12 Volts.

What would cause the green light to flash as if it is discharging when there is full power to the unit?

The battery cycles power to release and recharge, so this is normal to periodically see this.  If the battery was charged full and never cycled this would cause the battery life to lessen.

Will this battery back up work with model 3053?

If you had a 3053 with that came with a battery backup, then yes this will work as a replacement.

My Genie garage door opener does not appear to have power going to the battery, is there a way I can charge it externally?

No, it cannot be charged externally. Please contact Genie customer service at 1-800-354-3643 for assistance.

I have a GCG350L model, will this or any other battery work? 1/2 HP, 120V 60 Hz 5 AMP. Thanks

No. We do not have a battery back-up system available for the GCG350L model garage door opener.

I have power in my garage only at night due to some restrictions and I use the backup unit to open/close garage door 1-2 times during daytime using battery backup. How long would the battery last under this condition? How often would I need to replace the battery?

The battery should be charging a full 24 to 48 hours to get the full cycle usage out of it.

What will cause my opener to lose open and close positions 2 to 3 times a week? We have not had any power outages. model # 7055 about 4 1/2 years old. When I have reprogramed it twice I have had to unplug the battery for a minute. The first 4 years I had to reprogram it 3 times. In the last 1/2 I have had to reprogram some weeks up to three times. Thanks Rick

The drifting limits can be caused by an unbalanced door, the Opto (RPM sensor) in the garage door opener, or other factors. For troubleshooting assistance please contact Genie customer service at 1-800-354-3643.

Will a week battery cause the opener to lose it's set open and close positions and need to be reset frequently? The opener is about 4 1/2 years old.

No, the battery will not cause the limits to get lost. For troubleshooting assistance, you can contact Genie customer service at 1-800-354-3643.

looking for battery for model # 7055 belt drive . owners manual says use Genie P/N 111658-0002, do you sale that battery?

Yes, it is the 111658.0002.S if you are replacing the battery. 

What is the warranty for the battery and what is the expected life? I purchased a battery for my 3120 opener when I purchased the opener a couple years ago and it appears to be dead now since there was no power in the house yesterday, and it would not open or close the door.

The warranty on the battery is one year. The batteries are designed to last about 3-5 years. We recommend testing them every 6 months.

Is this the right replacement battery for the Pro Model 6170H-B?

Yes, the Battery BackUp Replacement Battery- 111658.0002.S is the correct nattery for the Genie model 6170H-B garage door opener.

Is this the right battery for Model 7155 that came from HOME DEPOT? I was told by Genie support a year ago that model 7155 was specific to Home Depot.

Yes, Battery BackUp Replacement Battery- 111658.0002.S is the correct battery for the Genie model 7155 garage door opener.

how do you charge a replacement battery?

The battery charges from the opener unit, it is plugged into the opener constantly when installed, so it cycles through charging.
Battery Backup Hardware/ Battery Replacement 111658.0002.S
WARNING!
BE SURE ELECTRICAL POWER HAS BEEN DISCONNECTED FROM THE INPUT POWER LINES PRIOR TO REMOVING THE MOTOR COVER.
WARNING!
ANY AND ALL REPAIRS MADE TO THIS UNIT MUST BE PERFORMED WITH THE DOOR DISCONNECTED FROM THE OPENER AND IN THE CLOSED POSITION.
Proper care should be used when handling a battery. Eye protection should be worn. 
NOTE: DO NOT reverse the polarity (+) and (-) as this will damage the powerhead. 
1. Unplug the powerhead for the power source. 
2. Unplug the battery backup from harness connection. 
3. Remove both mounting screws from the rear of the battery backup. 
4. Detach the battery backup from the back of the opener by tilting the BBU approximately 45 degrees and lifting up towards the ceiling. (See figure 1)
5. Remove 4 screws from the battery hold down bracket. 
6. Remove the battery.
7. Disconnect the harness wires from the (+) and (-) terminals. (See figure 2)
8. Replace in reverse order
NOTE: Allow 24-48 hours to charge the battery before testing. 
Free Shipping

We offer FREE shipping and handling on all orders that total over $17.99 and are shipped to a US address. All orders are shipped using UPS ground, directly from The Genie Company.

Genuine Replacements

Buying GENUINE Genie accessories and parts guarantees that you are getting quality OEM materials backed by a Genie warranty.

Support

Need assistance? We are here for you! We offer a wide range of customer support options including contact by phone or email, web chat services with a live agent, and a robust support section also located on our website.  All customer care teams and services are based in the USA.

FREE SHIPPING ON ALL US ORDERS 17.99 AND UP