Regular price
Sale price
$20.33 USD
Unit price
per
Sale
Sold out
Bearing block assembly for compatible screw drive model garage door openers. The bearing block assembly sits inside the rail in front of the powerhead. 
Compatible with Genie screw drive models: 2562, 2564, 2568, 3062, 3064, 4062, 4064
Genuine Genie replacement part 
SKU: 37844R.S
In Stock! Usually ships within 24 hours.
ASK A QUESTION
View full details

Bearing Block Assembly - 37844R.S
$20.33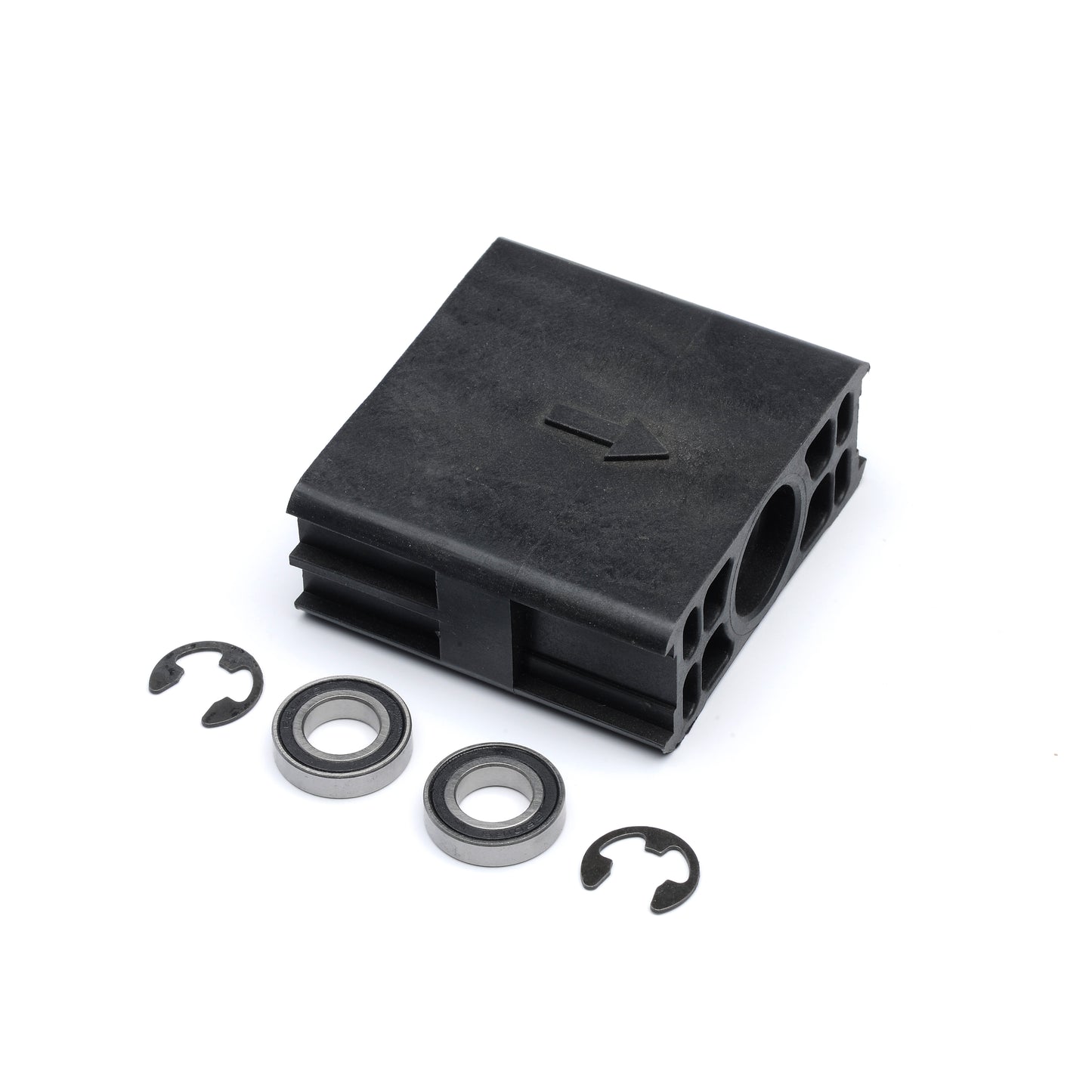 QUESTIONS & ANSWERS
Have a Question?
Be the first to ask a question about this.
Ask a Question
PDF Instructions for replacing 37844R Bearing Block 
37844R.S Bearing Block Replacement Instructions
This repair will require removal of the unit from it's mounting hardware and repairs made on a bench or floor. Refer to your Owners Manual and/or Installation Poster for proper assembly and carefully read and understand all warnings and cautions
pertaining to your unit.
WARNING
BE SURE ELECTRICAL POWER HAS BEEN DISCONNECTED FROM THE INPUT POWER LINES PRIOR TO REMOVING THE MOTOR COVER.
WARNING
ANY AND ALL REPAIRS MADE TO THIS UNIT MUST BE PERFORMED WITH THE DOOR DISCONNECTED FROM THE OPENER AND IN THE CLOSED POSITION.
1. Pull Emergency Release Cord on Carriage to disengage Opener to close door if necessary. (If unable to lower door using Opener, use extreme caution manually closing door. Before pulling the Emergency Release Cord, make certain people and objects are clear of the door opening.)
2. Unplug Opener Power Cord from power receptacle.
3. Open Lens Cover by pressing middle tab inward and remove Light Bulbs. FIG. 1.
4. Remove Wall Control and Safe-T-Beam wires from Terminal Block located on side of Opener FIG. 2. Use small common screwdriver to press in on orange tabs while gently pulling wires from the block. Mark wires to help facilitate replacement.
5. Remove Network and Battery Backup Harnesses from front of Opener (if applicable).
6. Remove the Cotter Pin & Clevis from Door Arm to separate door from Opener. FIG. 3.
7. Remove Motor Head and Rail Assembly from mounting brackets and set on a clean work surface or floor.
NOTE: Be aware of the Motion Detector Bulb on bottom of Powerhead Cover. Do not set operator weight on this bulb FIG. 4.
8. Remove the 6-7/16" self tapping bolts from the Rail/Motor mounting straps and pull Rail from Motor Head. FIG.4.
9. Using a small common screwdriver, remove E-ring at Motor end of Bearing Block.
10. Slide Bearing Block towards Motor end of Rail to remove.
11. Remove second E-ring.
12. Install replacement forward (door end) E-ring.
13. Slide replacement Bearing into forward (door end) side of Block and slide into place against E-ring.
14. Install Motor end Bearing and secure assembly with e-ring.
NOTE: The Slotted side of the Bearing Block MUST face the top and Motor end of rail. This is the slot for the Mounting Flange that holds the Rail to the Motor head.
15. Install Rail to Motor Head Assembly using Coupler, Mounting Flange, and 6-7/16" self-tapping screws. FIG. 4.
16. Reinstall Opener Assembly in reverse order as removed. Reference your Owners Manual and Installation Poster.
17. Install Wall Control and Safe-T-Beam wires. Install Battery Backup and/or Network Harnesses if applicable.
18. Install Light Bulbs and close Lens Cover.
19. Install Clevis & Cotter Pins from Door Arms to Shuttle.
20. Move disconnect lever on Shuttle to the upwards position and operate Door until Shuttle connects with Carriage inside rail. These two will lock together.
21. Plug Opener in.
22. Reprogram Limit Controls per Owners Manual.
Free Shipping

We offer FREE shipping and handling on all orders that total over $17.99 and are shipped to a US address. All orders are shipped using UPS ground, directly from The Genie Company.

Genuine Replacements

Buying GENUINE Genie accessories and parts guarantees that you are getting quality OEM materials backed by a Genie warranty.

Support

Need assistance? We are here for you! We offer a wide range of customer support options including contact by phone or email, web chat services with a live agent, and a robust support section also located on our website.  All customer care teams and services are based in the USA.

FREE SHIPPING ON ALL US ORDERS 17.99 AND UP