Regular price
Sale price
$85.99 USD
Unit price
per
Sale
Sold out
Circuit board for garage door openers that have 3 terminals strip (without magnetic limits). Use this board to get your opener back up and running quickly if you have determined your circuit board needs to be replaced.
Compatible with models:  IC250/B, GCG350L, PMX300-IC/B, PMX500-IC/B, PMX500-XL, PCG400, PCG600, PCG450, PCG650
Genuine Genie replacement part 
Requires re-programming with the new board 
SKU: 36190T.S
In Stock! Usually ships within 24 hours.
ASK A QUESTION
View full details

Control Board (3 Terminal Board) 36190T.S
$85.99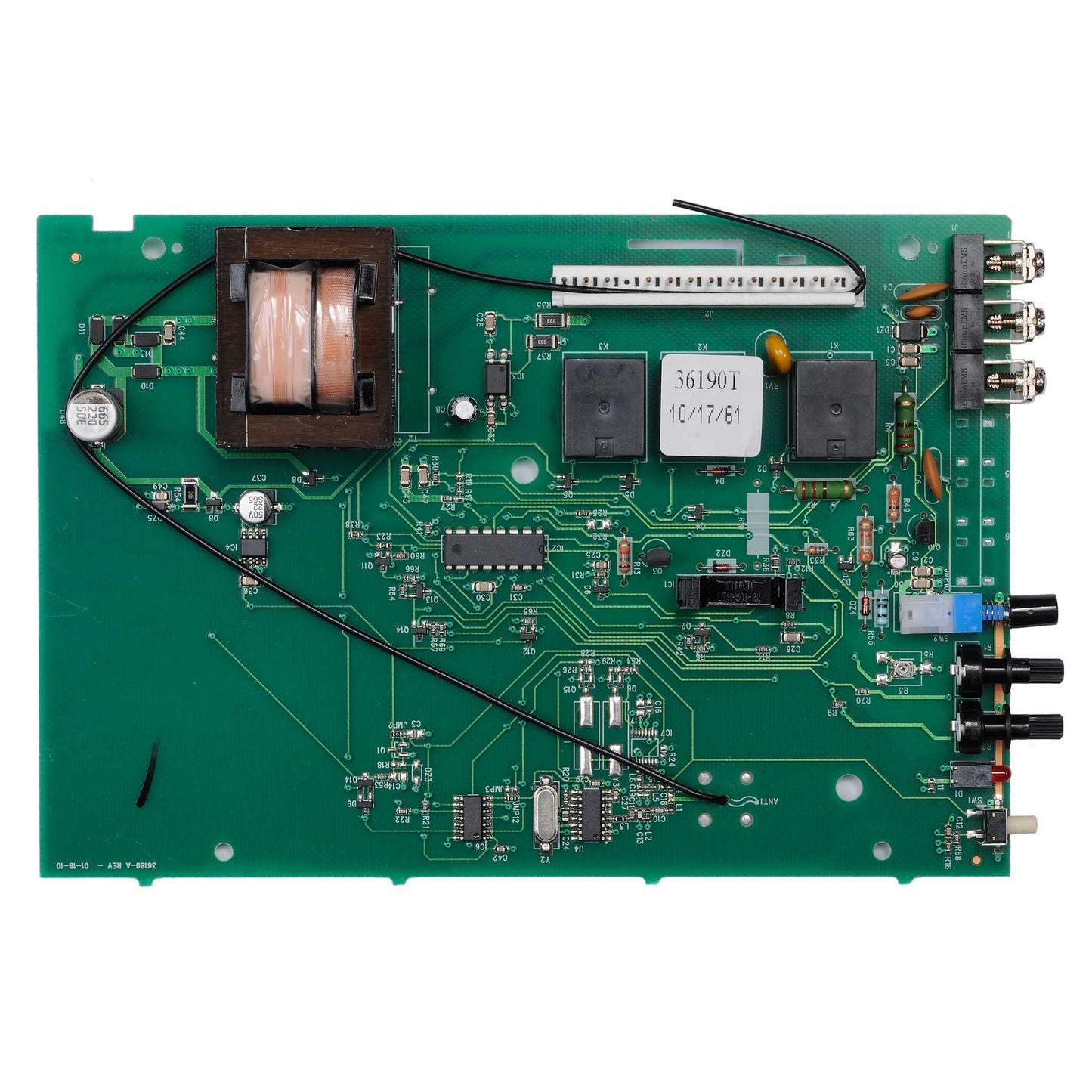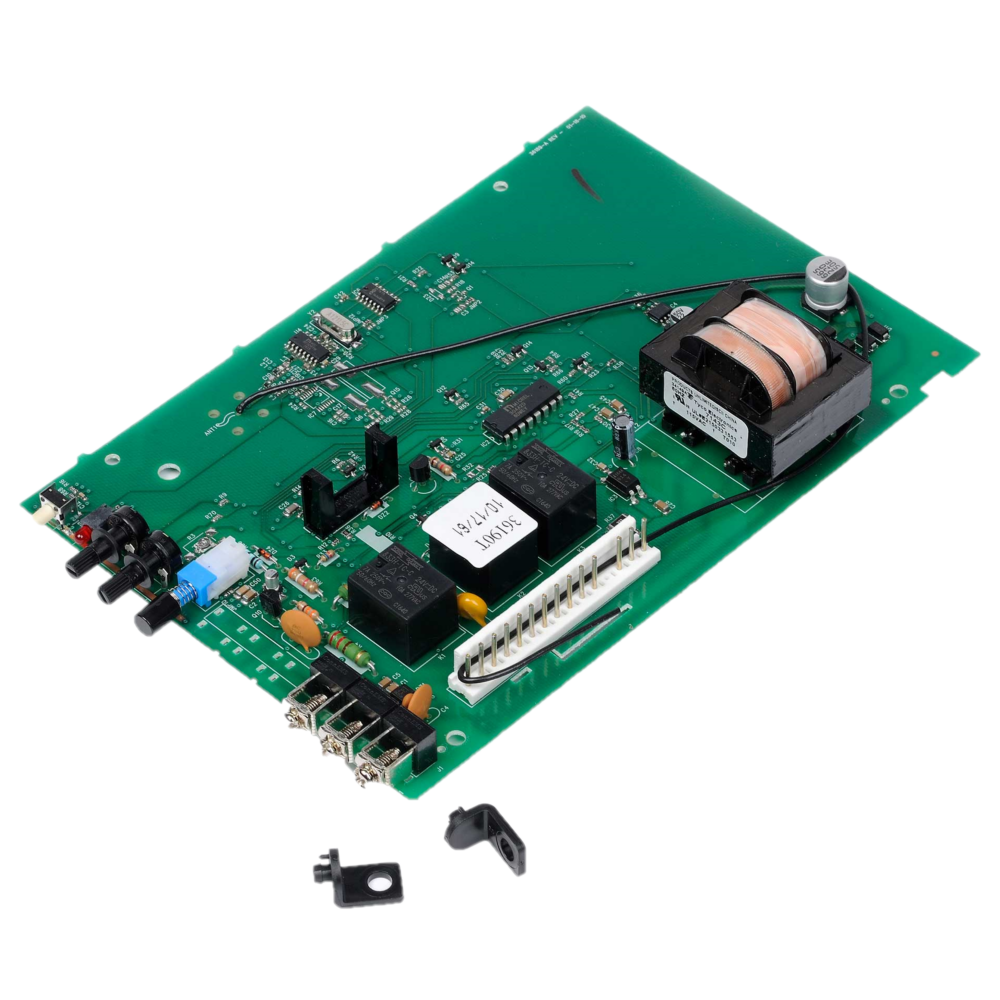 A previous question says that this is a direct replacement for the 33001T, but other answers and users point out that the push-button switch needs to be removed. So, are you really asking users to unsolder that switch from the board? Seems pretty extreme since the board is supposedly a direct replacement. But, if the problem is that the the front panel cover depresses the switch would simply drilling a hole in the from cover so that it doesn't depress the switch also solve the problem?

The button to be removed is just a plastic cap that can be pulled off with your fingers.

Will this board work with the genie pro max model # pmx500ic/b

Yes, the Control Board (3 Terminal Board) 36190T.S is compatible with your Genie model PMX500IC/B.

I bought this control board 3619ot.s from your company. I have installed it and I cannot get the wall opener switch to work? It will work with the transmitter car control? My opener is a GCG350L. What could be the issue? Also I have the manual limit switches. I see you do not sell them anymore. Can I get something that could work for this unit? Everything else works ok. Thanks

There is a limit set cap on the circuit board that needs to be removed from the board when installed in this model.  Otherwise, it will be depressed by the front panel cover, which will cause the wall button to not function.

Is this board (36190T.S) a replacement for the 26973LP/33001R board found in a Genie IC250/B opener?

Yes, it is.

Why is there a big empty space below the transformer on the new board while my old board is filled up with capacitors and resistors?. This will be used on a PMX500IC/B

The board has been revised as a replacement part for multiple models, this will work for the PMX500IC/B.

IS THIS BOARD A DIRECT REPLACEMENT FOR A 33001T Board used in a PCG 650 Door Opener?

Yes, it is.

Hello will this circuit board work to replace circuit board numbered 343740T in my pcg650? It looks a little different.

Yes, it will.

Is this the correct Circuit Logic Board replacement for my Genie Python Chain Glide 1/2hp Model OCG750 garage door opener. The board dimensions are 5" X 7 1/4".  On the back of my board is 33000A-R5.  There are 3 terminals (1-Push Button, 2-Common, 3-Safety Beam). Also, I noticed in this picture there is an push button added that mine does not have. What is it for?

The Control Board (3 Terminal Board) 36190T.S is the correct board for your opener. That cap that you are seeing would need removed form the board when you install it. The board will come with insturctions.

Genie Control Board (3 Terminal Board) 36190T.S just triple checking will this can replace the pcg600 Board?

Yes, the Control Board (3 Terminal Board) 36190T.S will work with your Genei model PCG600 garage door opener.

I HAVE A GCG350L BOARD MINE HAS 3 CONTROL SWITCHES YOURS HAS 4 WILL IT STILL WORK?

Yes, the Control Board (3 Terminal Board) 36190T.S is the correct circuit board for the Genie model GCG350L.

I have a PMX500-IC/B and will replace the control board with this one. Is there a compatible wall control? My old one is usable, but the buttons are worn.

Yes, as long as your old wall console was functional before, it would be compatible with the new Control Board (3 Terminal Board) 36190T.S.

If the wall console needs replaced you can replace it Wall Console 39165R.
PDF Printable Instructions for replacing the 36190T.S Three Terminal Control Board
REPLACEMENT 36190T.S CONTROL BOARD INSTRUCTIONS
390 Mhz Replacement Board for ProMax/Legacy
Tools required: 1/4" nut driver or socket, screwdriver
1. Unplug operator from 110v outlet (or if the unit is permanently wired, shut off power to the unit).
2. Remove wall control and photocell leads from terminal strip on rear of opener. Fig. 1.
3. Remove side cover (two screws) to expose control board. Fig 2-A.
4. Remove rear control board mounting bracket and 2 mounting screws at top edge of control board. Fig. 2-B & C.
5. Unplug wire harness and remove existing control board.
6. Connect wire harness to replacment 36190T.S control board and install. Make sure board is properly seated in the rear panel supports and replace the mounting bracket. Securely tighten screws.
7. Replace mounting screws at top edge and tighten snugly (do not overtighten). This can cause the board to crack.
8. Replace side cover making sure antenna protrudes from rear of case. (Control boards are light sensitive and should not be operated while uncovered.)
9. Reconnect wall control and photocell leads.
10. Plug power cord to 110v outlet (or reset breaker).
11. Adjust up and down force controls and program transmitter devices per the owner's manual.
12. Perform Contact Reverse Test in accordance with the owners manual.
Free Shipping

We offer FREE shipping and handling on all orders that total over $17.99 and are shipped to a US address. All orders are shipped using UPS ground, directly from The Genie Company.

Genuine Replacements

Buying GENUINE Genie accessories and parts guarantees that you are getting quality OEM materials backed by a Genie warranty.

Support

Need assistance? We are here for you! We offer a wide range of customer support options including contact by phone or email, web chat services with a live agent, and a robust support section also located on our website.  All customer care teams and services are based in the USA.

FREE SHIPPING ON ALL US ORDERS 17.99 AND UP