Regular price
Sale price
$12.99 USD
Unit price
per
Sale
Sold out
Product has been discontinued and is NO LONGER AVAILABLE.
The main drive gear sits in the gear housing and attached to the drive shaft. 
Compatible with Models:  1020L, 2020L, IC250, PCG450, PCG500ML, PCG700ML, PCG700FN, H2000C-1, IC250/B, PMX300-IC/B, PMX500-IC/B, PMX500-XL, PROMAX AMX300-IC/A, PMX300-IC/A, AMX500-IC/A, PMX500-IC/A, GCG350, GCG350L, GCG350ML, H2000C-1, H2000C-THDS, PCG400, PCG600, PMX60, PMX65, PMX70, PMX75, PMX80, PMX80QSS, PMX85, AMX85, CHAINGLIDE PCG450L, PCG650L
SKU: 27096A.S
Sorry, this product is currently out of stock.
ASK A QUESTION
View full details

$12.99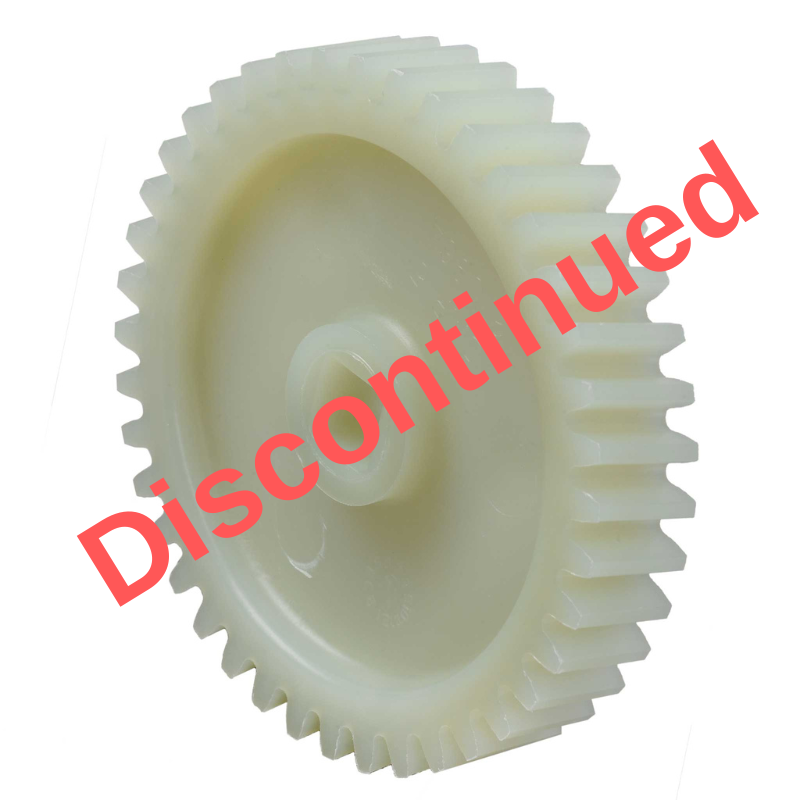 How to replace 1024 Main Drive Gear?

The Genie model 1024 drive gear contained within the motor is not a replaceable part, you would need to replace the entire motor, Motor 600 Series 36447A.S.  This gear 27096A.S is not compatible with Genie model 1024.

Need a gear for a model 810 . Part # y-21004. Thank you

Sorry, the main drive gear for a Genie model 810 is no longer available due to the age.

Does this work for the Model 2024 Genie?

No, this drive gear is not compatible with Genie model 2024, there is no compatible gear for this unit, the entire motor must be replaced Genie Garage Door Opener Replacement Motor (800 Series) - 37030A.S | The Genie Company.


Will this gear work on 2040 genie model

Unfortunately, this drive gear will not work with Genie model 2040, the gear is obsolete and there is no replacement part.  You can check local or online dealers/retailers for part 36045A.S to see if you can locate one, but if not we would recommend replacing the unit.

Will this work on a model 1056 ?

No, this is not compatible with Overhead model 1056.

I have PCG650 and need a drive gear. I see this lists the PCG640L, will this work with mine? I'm not sure what the L means. Thank you

Yes, the Main Drive Gear is compatible with the PCG650.

I installed my Genie Model SP99 when I moved into my new house in 1987. Will this gear fit the Model SP99?

No, sorry there are no replacement gears available for this model due to the age, we would recommend replacing the unit.

Does this fit on the 2040L belt drive opener? Thanks!

No this gear is not compatible, there is no gear replacement available for the model 2040L.

Will this work on OCG 750 model

Yes, the Main Drive Gear part number 27096A.S is compatible with the PCG750 model.

Will this gear work on a 2042 chain drive model? Part #37030A.

Yes this motor 37030A.S is compatible with model 2042. It includes the motor and internal gears (it does not include the sprocket that mounts on the top of the powerhead).

this gear # 2709a work on H6000? Thanks

No, it will not. The H6000 was a screw drive opener, you can view the parts for it here.

Does this work for 1/2 HP Model PCG650? The description in the item listed says PCG650L but I don't seen an "L" on my model. Thanks!

Yes, it will work on the PCG650 model.

Will this gear work on model 1022 door opener?

No, it will not.

Will this work in model 2022 opner

No, it will not. We do not have replaceable motor gear for the 2022 model.

Will this gear #27096a.s work on a pcg650? Thanks

Yes, it will.

Is worm gear available, the one that drives gear #27096A for model PCG450 ?

The 27096A.S Main drive gear will work on the PCG450 model garage door opener.

What is the pet number the DRIVE GEAR for the GEnie 1042 , you dint seem to have it here . Do you know if it existe ?

We do not sell the motor gears for the 1042 as separate parts.

WILL IT FIT 1042 MODEL?

No, it will not.

Will this part work on a model 2024?

No, it will not. You can view parts for the 2024 here.

How can I buy the main gear for the model 1024?

We do not have the gears for the 1024 motor available.

Will this part work on the 1024 Pro model?

No, this part will not work on the 1024 model.
To replace the ChainGlide® Drive gear: 
PDF Document available for download
This job can be done with a 1/4" nut driver or socket wrench with out the need to remove the unit from the ceiling. 
Unplug the Unit
Remove main cover from the operator powerhead with one 1/4" screw.
Remove three 1/4" screws attaching the gear case cover to the main housing. Use care when removing the cover, small parts (numbers 18, 22, gear 21, shaft 19) could come out with the cover.  
Remove broken drive gear. Inspect for other broken parts and pieces of the old gear. 
Apply a small amount of low temperature grease to the new drive gear. Excess grease from original gear is acceptable. 
Replace new drive gear. 
Make sure the drive shaft bushing (#18) is properly seated into the bottom of the gear case cover. 
Replace drive shaft washer to shaft while installing gear case cover. 
Replace the three 1/4" screws. 
Replace the powerhead cover and screw. (Note: these units will not operate correctly without the main cover installed). 
Check the door balance, limit switch adjustments, and force adjustments to insure your unit is operating safely and efficiently. See owners manual for maintenance requirements. 
Free Shipping

We offer FREE shipping and handling on all orders that total over $17.99 and are shipped to a US address. All orders are shipped using UPS ground, directly from The Genie Company.

Genuine Replacements

Buying GENUINE Genie accessories and parts guarantees that you are getting quality OEM materials backed by a Genie warranty.

Support

Need assistance? We are here for you! We offer a wide range of customer support options including contact by phone or email, web chat services with a live agent, and a robust support section also located on our website.  All customer care teams and services are based in the USA.

FREE SHIPPING ON ALL US ORDERS 17.99 AND UP