Regular price
Sale price
$99.99 USD
Unit price
per
Sale
Sold out
This replacement circuit board is for Genie model 1028 chain or belt drive model garage door openers. Use this replacement circuit board to get your garage door opener back up and running quickly once you have determined that your circuit board needs to be replaced.
Compatible with model 1028, 1035, 1055
Includes DIY replacement instructions 
Requires re-programming with the new board 
Genuine Genie replacement part 
SKU: 38647R.S
In Stock! Usually ships within 24 hours.
ASK A QUESTION
View full details
Circuit Board Assembly 38647R.S
$99.99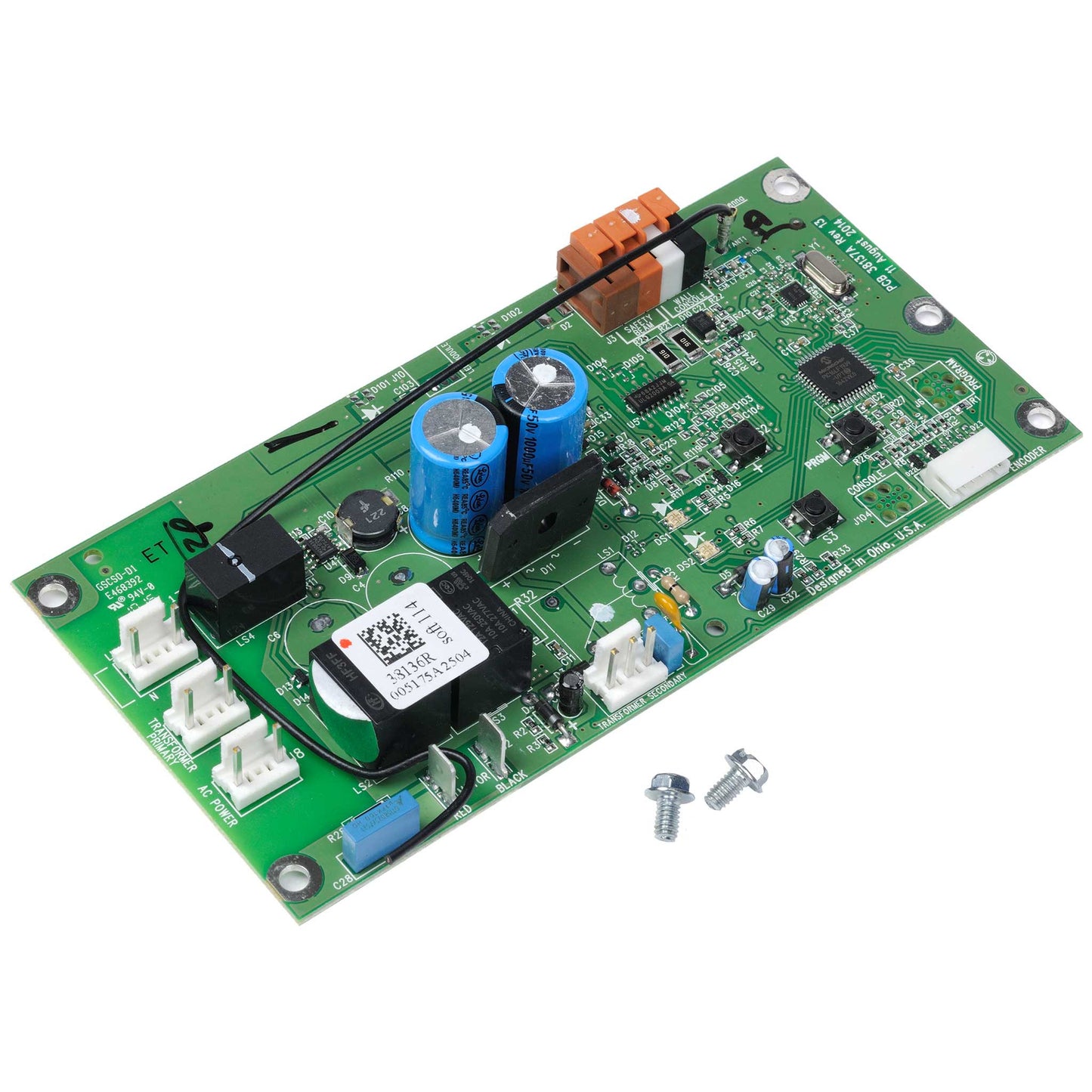 38647R.S Control Board Replacement Instructions 
PDF Printable 38647R.S control/circuit board replacement instructions for Genie model 1028 garage door opener 
WARNING
BE SURE ELECTRICAL POWER HAS BEEN DISCONNECTED FROM THE INPUT POWER LINES PRIOR TO REMOVING ANY ELECTRICAL COMPONENT COVER.
WARNING
ANY AND ALL REPAIRS MADE TO THIS UNIT MUST BE PERFORMED WITH THE DOOR DISCONNECTED FROM THE UNIT AND IN THE CLOSED POSITION.
NOTE: The garage door opener rail not shown on these images, garage door opener rail removal is not necessary for this repair.
These instructions are written assuming that you will have ample room around unit to perform this repair. Some rare instances will require removal of the unit from it's mounting hardware and repair made on a bench or floor. Refer to your owners manual and/or installation poster for proper assembly and/or programming and carefully read and understand all warnings and cautions pertaining to your unit. Manuals/instructions can be downloaded from our websites. Refer to your unit label for website information.
Parts Included in this kit: 38647R.S Control board assembly, and two mounting screws.
Tools Required for installation: 1/4" nut driver, small common screwdriver.
Approximate Time Required for replacing the circuit board: 30 Minutes.
1. Remove power from the garage door opener (by unplugging from the outlet).
2. Press down on the tabs to remove the lens. FIG-1
3. Remove the light bulb.
4. Note the locations and remove BWC (Basic Wall Control) and STB (Safe-T-Beam®) wires. Use a small screwdriver to press in on orange tabs to remove wires. FIG-2
5. Using a 1/4" nut driver or common screwdriver, remove the 3 opener cover screws and opener cover. FIG-2
6. Note the locations and remove lights, transformer primary, AC power, red & black motor wires, transformer secondary, and encoder harnesses. FIG-3
7. Using a 1/4" nut driver or common screwdriver, remove the 2 control board mounting screws and then remove the old control board. FIG-3
8. Install the new replacement control board 38647R.S, harnesses, opener cover, BWC & STB wires, light bulb and lens in the reverse order as removed.
9. Reapply power to the garage door opener. 
NOTE: Limit settings will require reprogramming. Refer to your owners manual for detailed instructions.
IMPORTANT: Test the garage door opener functions. The garage door MUST reverse on contact with a 1-1/2" high object (or a 2 x 4 board laid flat) at the center of the doorway on the floor. After adjusting either the force or limit of travel, retest door opener. Failure to adjust the opener properly may cause severe injury or death.
Free Shipping

We offer FREE shipping and handling on all orders that total over $17.99 and are shipped to a US address. All orders are shipped using UPS ground, directly from The Genie Company.

Genuine Replacements

Buying GENUINE Genie accessories and parts guarantees that you are getting quality OEM materials backed by a Genie warranty.

Support

Need assistance? We are here for you! We offer a wide range of customer support options including contact by phone or email, web chat services with a live agent, and a robust support section also located on our website.  All customer care teams and services are based in the USA.

FREE SHIPPING ON ALL US ORDERS 17.99 AND UP