Regular price
$170.99 USD
Regular price
Sale price
$170.99 USD
Unit price
per
Sale
Sold out
Product has been discontinued and is NO LONGER AVAILABLE
Motor Drive Circuit board for Genie screw drive model garage door openers. Use this replacement Motor Drive board to get your garage door opener back up and running quickly once you have determined your circuit board needs to be replaced.
Compatible with Genie Screw Drive Models: Pro99, CMD9900, H8000, ISD990, ISD995, ISD1000, 4560
Genuine Genie replacement part 
Comes with the harness to work with two style plugs
SKU: 36428R.S
Sorry, this product is currently out of stock.
ASK A QUESTION
View full details

Motor Drive Board 36428R.S
$170.99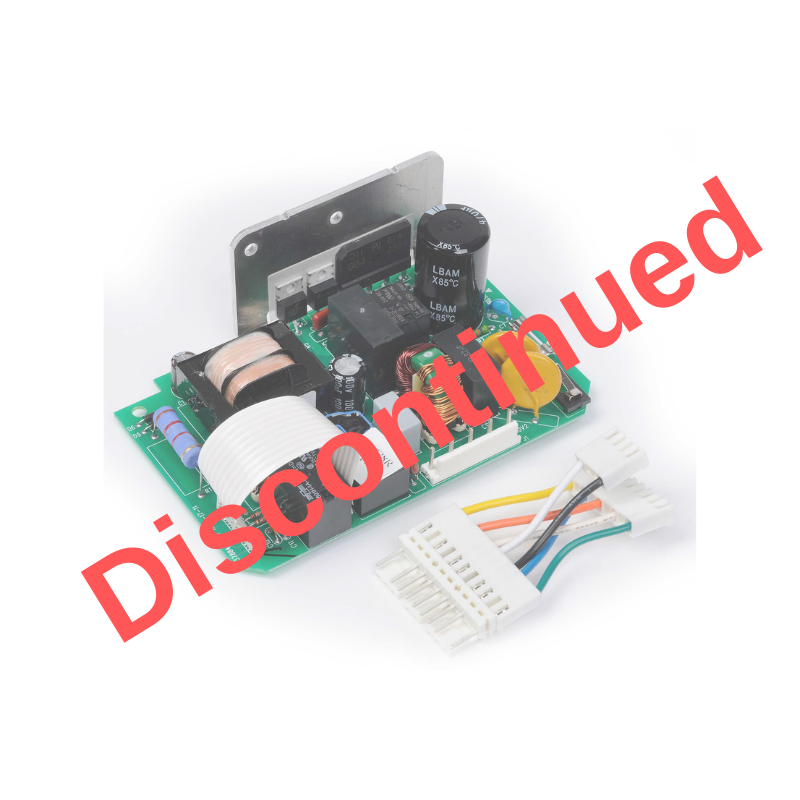 Is there an equivalent Motor Drive Board to replace the 36428R.S board for the Model ISD 1000 that seems to now be discontinued? I have power to the outlet and to the white pin block that plus into the motor drive board as well as the fuse on the board but nothing lights up or has power anywhere else - so I'm assuming the board is bad. Appreciate any help or direction. - David

This does sound like a motor drive board issue, unfortunately we no longer have the Motor Drive board 36428R.S and there is no replacement.  We would recommend check with local Genie dealers in your area by using our dealer locator or looking at online sources they may still have this part.  We cannot guarantee you will be able to locate it, but wish you luck.

can you provide a motor replacement with all the componets fora pro 99 1C? I think the circuit board is bad which is out of stock, so can I replace the entire motor unit, easily? Genie 36428R.S Excelerator Garage Door Opener Motor Drive is the circuit board. Im in Hawaii and things are limited thanks

Sorry there is no replacement motor or motor head for the Genie model Pro99IC.  We would recommend a complete unit replacement, the closest model would be the 4062 or 4063, available at Home Depot.  These would still require the motor head and rail be replaced.

Is there a motor drive board to replace the 36428R.S for the Excelerator model ISD990?

Sorry the

Motor Drive Board 36428R.S

is no longer available and there is no other replacement circuit board, however this part just went obsolete recently, so you may be able to locate from other online retailers or Genie pro dealers in your area, you can locate dealers by using our

dealer locator

.

I have a model ISD1000. I know there is power to the socket the opener is plugged in to. However, when i push the wall button, the outdoor door opener or any remote there is no garage door activity and no blinking status lights. Would this be the board that needs replaced or something else? thank you.

If there is no movement or sound and the lights on the unit, wall button, status lights, and safety beams all do not light, this is typically an issue with the transformer, which is housed on the Motor drive board 36428R.S.  However, this issue is usually due to surge damage/electrical storms which can be unpredictable, so we cannot guarantee the motor drive board will fix the issue, but it is the most likely cause.

I have an ISD990 Genie Excelerator Model . The learn button has plastic gone. I reach up ther with a small screw driver and push the little pin in the center of it to activate. From doing this it seems to have damaged it and sticks. After a period of using the opener it will release and I am able to program again. Do I need a new Board?

Yes, if the learn button continues to fail and no longer allows you to program anything, you will need to purchase a new 36600R.S controller board if anything new is to be programmed in.

i have a genie pro 82 screw drive opener. The number on the p c b is W 26000 A or W 20000 A .. I need to purchase a sequencer p c b ..

Sorry the sequencer board for the PRO82 model is no longer available.  There is no replacment part for it.

I have a ISD990 Genie Excelerator opener. When the garage is hot in the summer, the motor speed varies greatly. It the temps are normal, it works great. Typically it has the fast up and slow down. With the heat, the down can be extremely fast and the up can vary with a some points barely moving. It never completely stops and always opens or closes. It just runs fast/slow at times it should not. Would this be the motor drive board or circuit board?

When this happens, is there a green light that flashes on the garage door opener? The status light can help tell what is happening. View more details here, and you can also contact our customer service at 1-800-354-3643 for assistance.

Why was the board redesigned? Was there a problem with the previous version?

No, the replacement circuit board will work with multiple models.

If I am replacing a circuit board AND a motor drive board, which should I tackle first?

Hi Jim -

Make sure before you begin, unplug the garage door opener, and prior to disconnecting any wires from the back of the unit, you have them marked so you know which ones go back to each screw, after disconnecting those remove the motor cover, and remove one board at a time, it does not matter which one you begin with.  You can replace the Motor Drive board first, then go with the controller board, or vice-versa.

I have a model ISD990 Genie Excelrator garage door opener, upon pressing wall mount open button the motor starts the stops quickly it will not repeat unless I unplug the power and plug back in and then it does it again, if I press the light button it will start and stop and start and stop each time I press it is my problem the motor drive board ?

This could be the control board. Please contact Genie customer service at 1.800.354.3643 for troubleshooting assistance.
PDF Replacement Instructions for the 36428R.S Motor Drive Board 
Motor Drive Board Replacement (36428R.S)
1. Remove Power from Operator.

2. Lower or remove Lens Cover (Fig. 1).
• Excelerator—Push Lens Latches to release (Fig. 1A).
• Model 4060 Series, loosen 4 Phillips head self-tapping screws at the top of the light lens and remove the lens (Fig. 1B).
3. Remove Light Bulbs to prevent damage.

4. Remove Motor Cover (Fig. 2).
• Remove four #8-32 x 1" Phillip Screws.
5. Remove Motor Drive Board (Fig. 3).
• Disconnect Ribbon Cable from Controller Board.
• Disconnect Wire Harness from Motor Drive Board.
– Existing wire harness could have two connectors, one 9 position, and one 4 position connector or just one 11 position connector.
• Remove two #8-32 x 3/8" screws from Motor Drive Board.
6. Install new Motor Drive Board (Fig. 3).
• Align holes on Motor Drive Board with holes on Top Plate Assembly.
• Attach Motor Drive Board with two #8-32 x 3/8" screws.
• Attach Ribbon Cable from Motor Drive Board to Controller Board.
• Attach Wire Harness to Motor Drive Board. For existing 11 position harness.Use Adapter (Fig. 4).
1. 4 position connector to 4 position connector on motor drive board.
2. 9 position connector to 9 position connector on motor drive board.
3. 11 position adapter to existing 11 position wire harness.
NOTE: Tuck the adapter connectors up between the motor and motor drive board to allow replacement of the motor cover (Fig. 5).
For existing 9 and 4 position harness.
No Adapter.
1. 4 position connector to 4 position connector on motor drive board.
2. 9 position connector to 9 position connector on motor drive board.
7. Install Light Bulbs (Fig. 1).
• Use bulbs rated for:
- 60 Watts Maximum
- Rough Services
- Appliances
• Screw bulbs clockwise into light socket.
• Close Lens Cover.
NOTE: Do not overtighten light bulbs in sockets.
8. Close or attach Cover to Top Plate Assembly (Fig. 2).
• Excelerator—cover lifts up and snaps into place.
• Model 4060—Attach to top plate with four 8-32 x 1" Phillip Screws.
Free Shipping

We offer FREE shipping and handling on all orders that total over $17.99 and are shipped to a US address. All orders are shipped using UPS ground, directly from The Genie Company.

Genuine Replacements

Buying GENUINE Genie accessories and parts guarantees that you are getting quality OEM materials backed by a Genie warranty.

Support

Need assistance? We are here for you! We offer a wide range of customer support options including contact by phone or email, web chat services with a live agent, and a robust support section also located on our website.  All customer care teams and services are based in the USA.

FREE SHIPPING ON ALL US ORDERS 17.99 AND UP