The SilentMax LED Connect belt smart drive garage door opener is an ultra-quiet garage door opener with a steel-reinforced belt, making it the ideal choice for homeowners where sound could be an issue. The integrated Aladdin Connect Wi-Fi smartphone technology allows your garage door to be part of your smart home, while app alerts keep you in control and your garage secure. The Genie Aladdin Connect smartphone app is free and allows you to set-up virtual keys to individual users through their own app. This garage door opener has a powerful DC motor with GenieSense technology standard. For extra safety and added convenience, this Genie garage door opener features an integrated battery backup. That backup will power the garage door opener for up to 50 cycles when the main power is out. This garage door opener includes many accessories for safety and convenience. Included are two pre-programmed 3-button garage door opener remotes, an integrated super bright LED lighting system, a wireless keypad, and a multi-function wall console. The Genie Safe-T-Beam garage door safety sensors ensure your family's safety with an infrared beam of light across the door opening. 
Integrated LED illumination system provides super bright warm LED lighting in all directions
Fully loaded genie garage door opener comes complete with all accessories and add-ons available
Genie steel-reinforced belt drive provides extremely quiet operation, ideal if your garage is attached to your home
Limited Lifetime motor and belt warranty: precision machined motor and gearbox are greased and factory sealed from the environment for long-lasting, reliable performance which are guaranteed for the life of the operator
Aladdin Connect Smart Home Technology Built-In: Your smartphone becomes your garage door opener remote, works with Amazon Alexa and Google Assistant
The integrated backup battery operates opener when your power goes out up to 50 cycles from initial power failure
HomeLink + Car2U integration comes standard, no additional hardware required (Genie Exclusive)
An Intellicode enabled wireless exterior keypad is included
Genie Intellicode secures your home with rolling-code technology
Safe-T-Beams garage door safety sensors come standard to keep your family, and pets, safe with infrared technology
Extension kit required for 8 ft. high doors (sold separately)
Includes 2 pre-programmed 3-button garage door opener remotes, a wireless keyless keypad and a multi-function wall console (control panel) with independent light control, and sure lock
 California Residents: Proposition 65 WARNING
UPC: 050049021825
SKU: 39765S
ASK A QUESTION
View full details

SilentMax LED Connect Ultra-Quiet Belt Drive Smart Garage Door Opener w/ LED lighting and Battery Backup + Aladdin
$0.00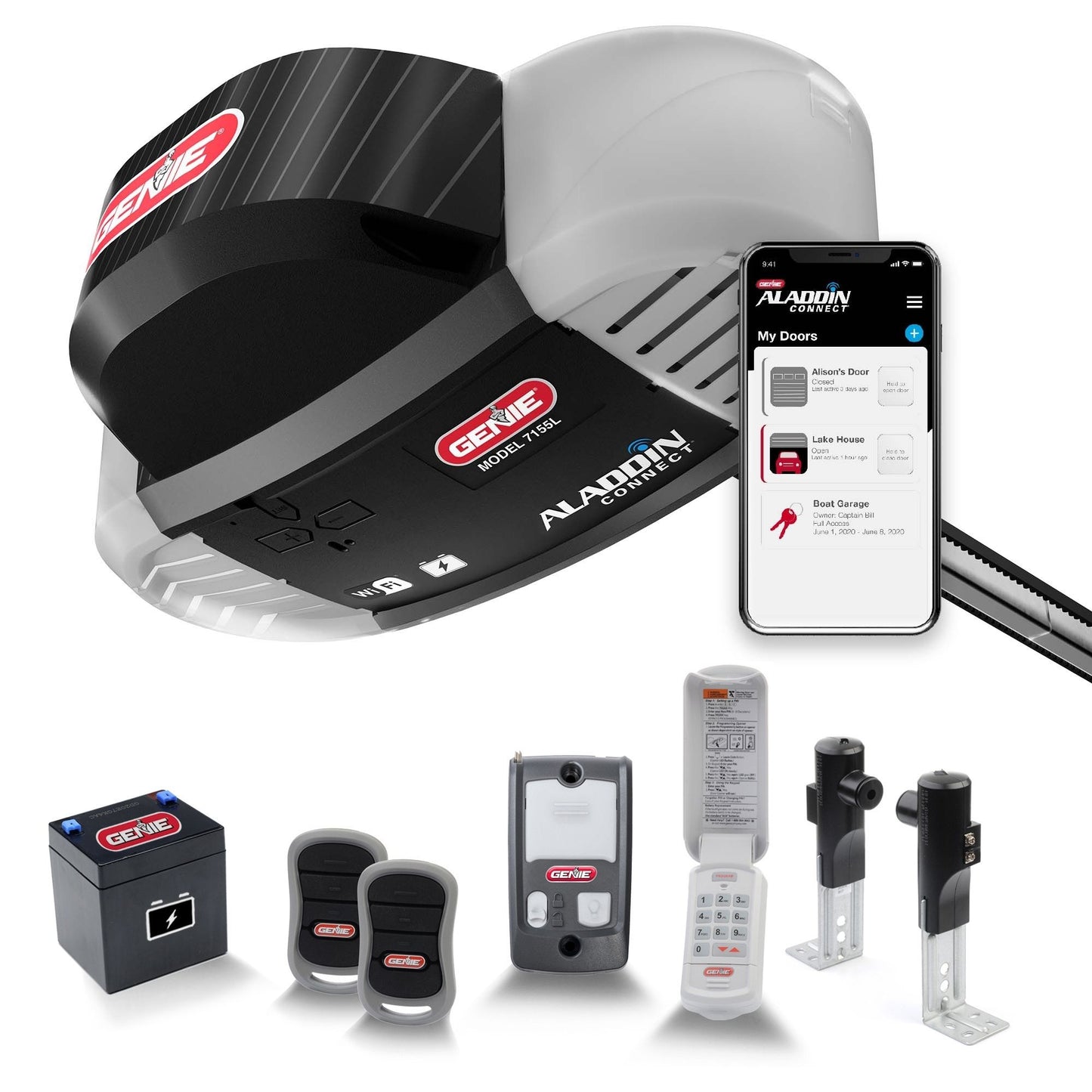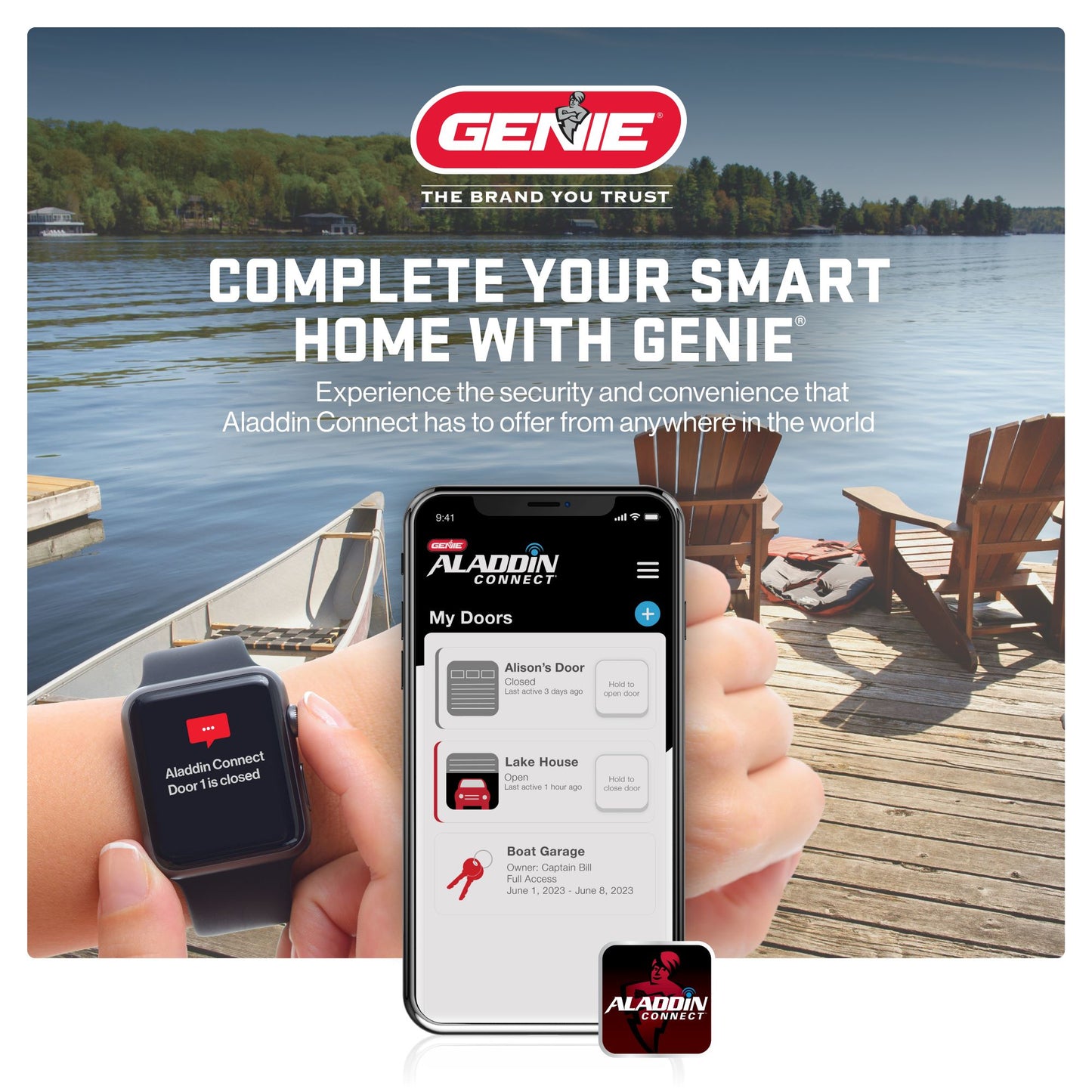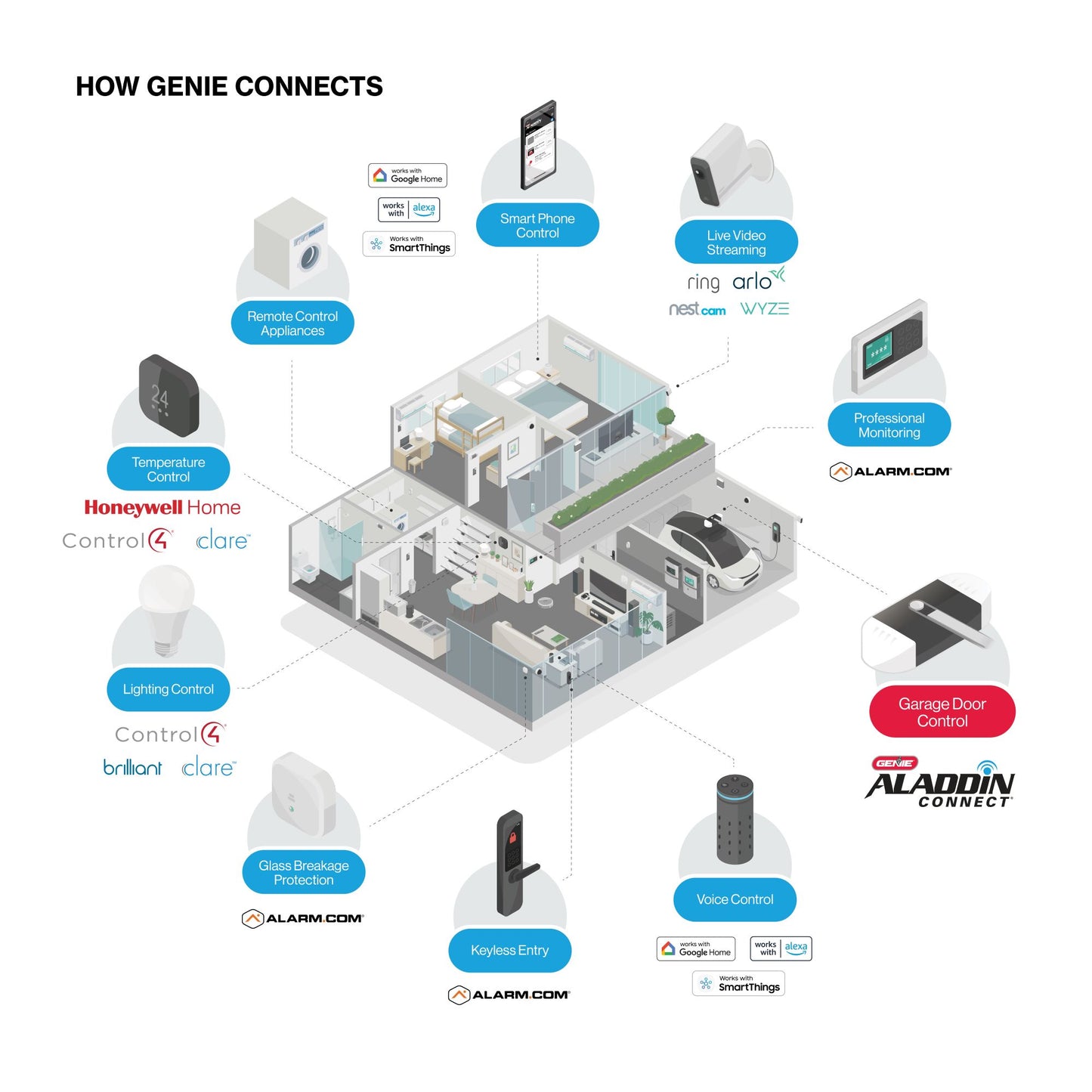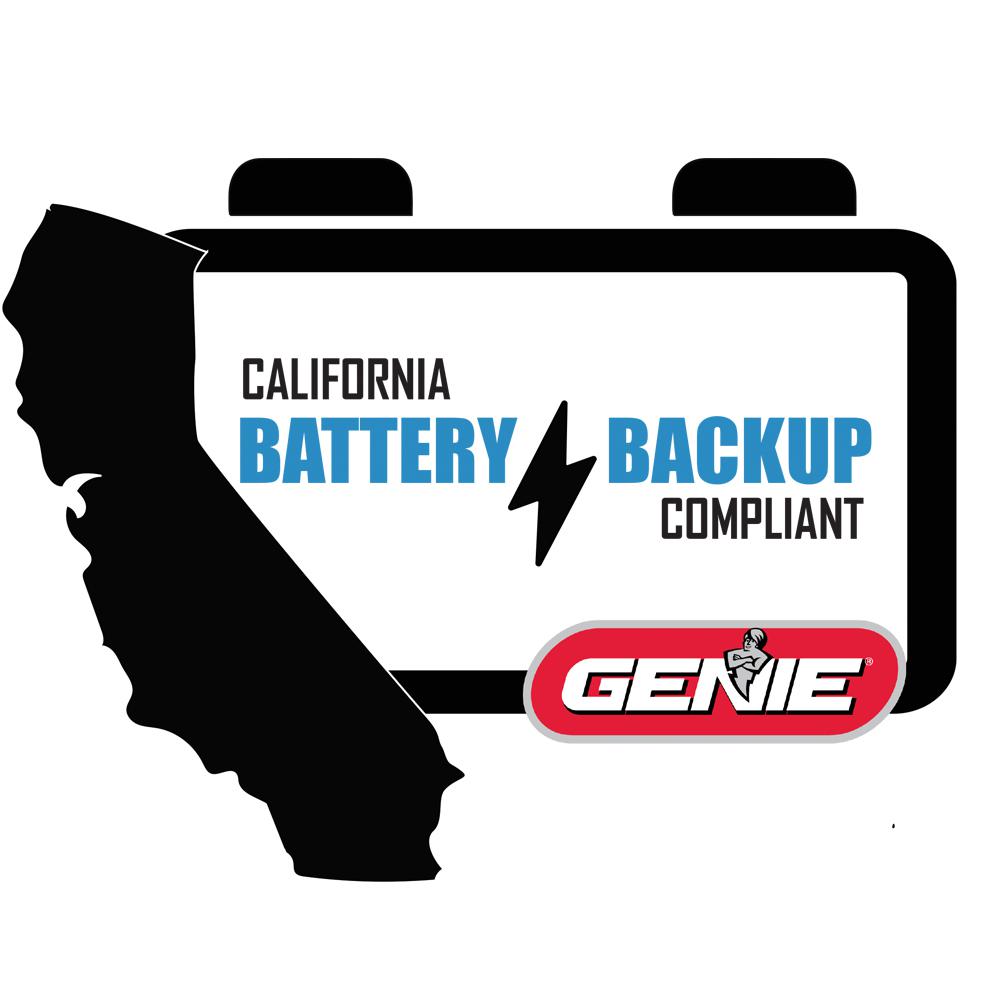 Can the led lights be replaced on the 7155-tksv? If so, what is the part number?

Yes, they can be replaced. We currently do not have that part available online, for assistance please contact Genie customer service at 1-800-354-3643.

What is the lumens rating for this?

1600 Lumens

what is the difference between the ultra-quiet battery backup belt drive 1 1/4hp and the 750 stealth 1 1/4hp models?

The SilentMax LED connect has integrated LED light bulbs.

If the integrated LED lights fail on my 7155L-TKV, can they be easlily replaced? I worry that "integrated" means if the lights fail, then I must replace the entire opener.

Yes, the interated LED lighting can be changed. You would not have to replace the entire opener.

Can the beeping sound feature when the door is opening / closing be turned OFF for Model 7155L-TKV?

This sound will happen when the Aladdin Connect is being used to open or close the door. It is per UL standard and cannot be shut off.

How many HP is the motor for this model?

This would be rated as 1HPc.

What is the horse power of this one?

This would be rated as 1HPc.

Does the wall control have a light motion sensor?

No, it does not.

Does the 7155L-TKV comes with rails? If so, how many sections?

Yes, the 7155L-TKV comes with the rail. The rail is a 5-piece sectional rail.

will the 7155 work with 7'-6" garage doors?

This will open your door the full 7 feet. If your garage door is 7 1/2 feet tall, you can either add the extension kit for the SilentMax LED Connect or you will have a small amount of the garage door that will not fully open and may hang in the doorway.

What is the minimum length required for installation? I cannot seem to find any rail length dimensions. The last Genie opener I purchased was too long for one of my garage doors due to HVAC duct.

This will be around 119" installed.

What is the difference between the 7155-tkv and the 7155L-tksv? Thanks

The 7155L-TKSV comes with integrated LED lighting, the 7155-TKV does not.

Is the key pad for the interior of the garage battery or does it have to be wired back to the opener?

The wall console for the indside of the garage is hard wired. 
If you would like wireless you can use this wall console: https://store.geniecompany.com/products/wireless-wall-console-39902r

What is the difference between the Model #7155L-TKSV and the Model #7155D-TSV?

The 7155L comes with integrated LED light bulbs (included) with a non-standard socket.  The 7155D comes with regular light sockets (bulbs not included).  The 7155D also has a slightly rounded cover versus the more rectangular cover of the 7155L.
Why Choose an Ultra-Quiet Genie Belt Drive Garage Door Opener
Installing a Belt Drive Garage Door Opener with the BILT App
Installation Video
This Genie product offers 3D Interactive Instructions in the free BILT® App available for download. 
Support for models: 
1035, 1055, 2036, 2033, 3053, 2035, 2055, 3035, 3055, 7035, 7055 (ChainDrive 550, Chain Drive 750, SilentMax® 550, StealthLift® 500, SilentMax® 750, Chain Glide Connect, SilentMax Connect, QuietLift Connect, Chain Drive 500, Chain Drive 525, QuietLift™ 750, StealthDrive® 750)
Genie Belt/Chain Garage Door Opener Installation Poster
Genie Belt/Chain Garage Door Opener Owners Manual
Standard Genie Garage Door Opener Features
Keeps your home and family safe by changing the access code from billions of combinations at each door activation to help prevent unauthorized access.

Patented technology that automatically finds the best line of communication between Genie® products. This maximizes the range of radio frequency devices and improves the overall performance of products.

Provides safety by continuously monitoring the operation of the garage door opener, stopping the operation to alert you when significant changes occur.
Add these accessories to Genie Belt Drive Garage Door Openers

FREE SHIPPING ON ALL US ORDERS 17.99 AND UP