Need replacement parts for this Genie Garage Door Opener model?  >>CLICK HERE<<
The Stealth500 Essentials belt drive garage door opener with Genie radio frequency friendly garage door opener LED bulbs, is an ultra-quiet garage door opener with a steel-reinforced belt. This garage door opener has a powerful DC motor with Genie Sense technology standard. For extra safety and added convenience. Like all Genie garage door openers, the Stealth 500 Essentials comes equipped with Intellicode rolling code technology that prevents unauthorized persons from opening your garage door. This garage door opener includes accessories for safety and convenience. Included is a pre-programmed single button garage door opener remote, 2 Genie Garage Door Opener LED light bulbs and a lighted push button. The Genie Safe-T-Beam garage door safety sensors ensure your family's safety with an infrared beam of light across the door opening. Our team of US-based technical support representatives are available by phone or chat to support this Stealth 500 Essentials garage door opener.
STRONG AND QUIET: The Stealth 500 Essentials garage door opener has a 1/2 Hpc DC motor paired with a steel-reinforced belt drive making this garage door opener, strong, quiet, and durable. Perfect for garages attached to living spaces, such as bedrooms, nurseries, or living rooms. Works on sectional garage doors up to 500lbs in weight
SAFE AND SECURE: The Stealth 500 garage door opener includes a self-diagnostic Safe-T-Beam system that helps prevent accidents and Intellicode Security technology helps prevent unauthorized access into the garage by changing the code every time the button is pressed from billions of combinations.
FAST AND EASY INSTALLATION: The Stealth 500 Essentials garage door opener features a strong 5-piece rail system that snaps together for easy installation. It's lightweight with no added hardware needed. Plus, pre-programmed remotes are ready to use out of the box to eliminate additional steps.
HOMELINK & CAR2U ENABLED: This garage door opener out of the box works with in-car remote systems such as Home link and Car2U without the need for repeaters or hubs
ACCESSORIES INCLUDED: The Stealth Essentials garage door opener includes one single button pre-programmed remote, a lighted push button, and 2 of Genie's radio frequency friendly, shatter-resistant LED garage door opener bulbs
Model 2055-LO
 Notice to California Residents: As of 07/01/2019, this item cannot be shipped to the state of California due to Senate Bill No. 969. If the shipping address on any order is the state of California the order will be canceled. California residents must purchase a garage door opener with a battery backup included. Please see other options of Genie garage door openers with battery backup options to purchase. 
UPC: 050049021979
SKU: 38958RT
ASK A QUESTION
View full details

Stealth 500 Essentials, LED Bulbs Included, Ultra-Quiet Belt Drive Garage Door Opener
$0.00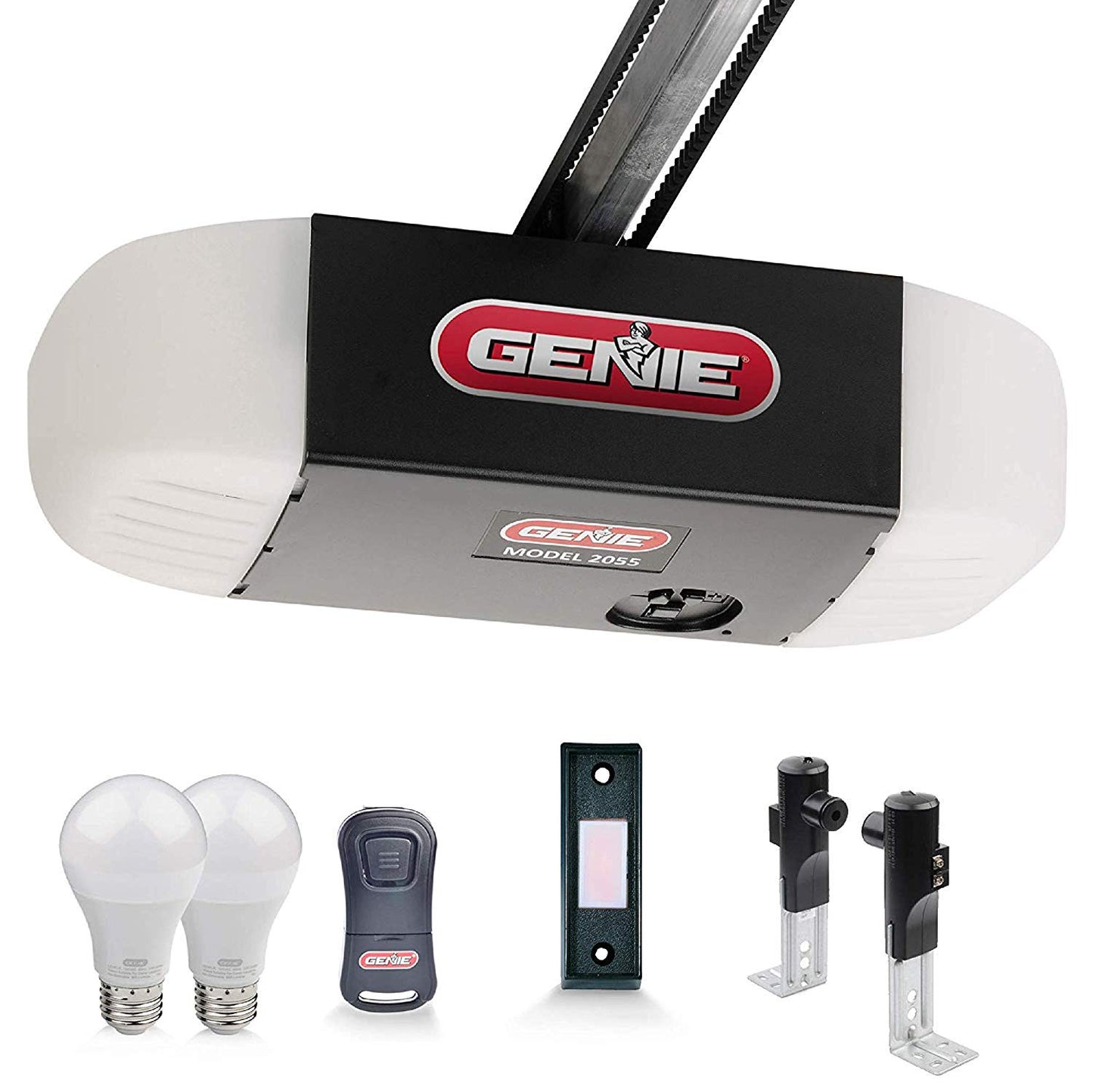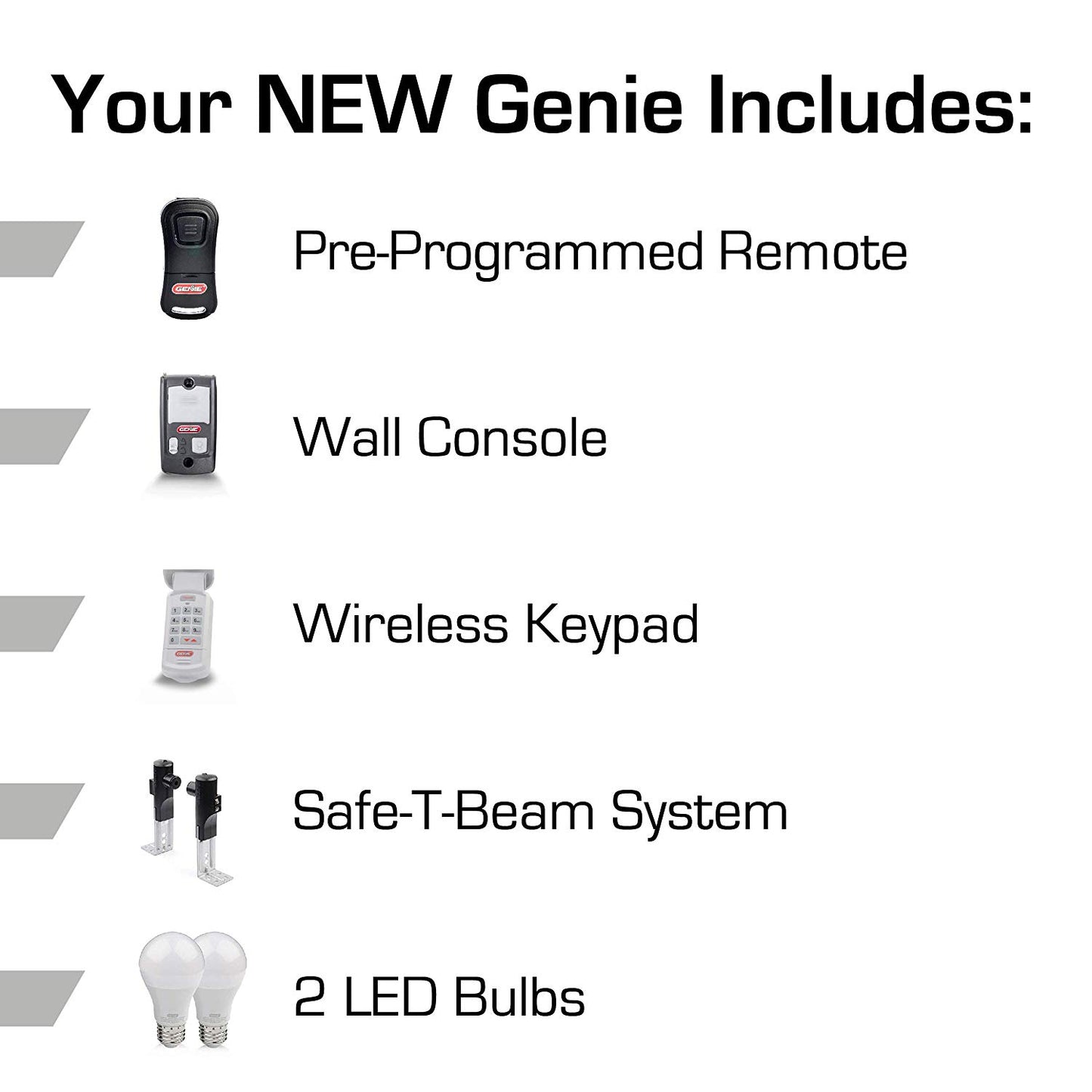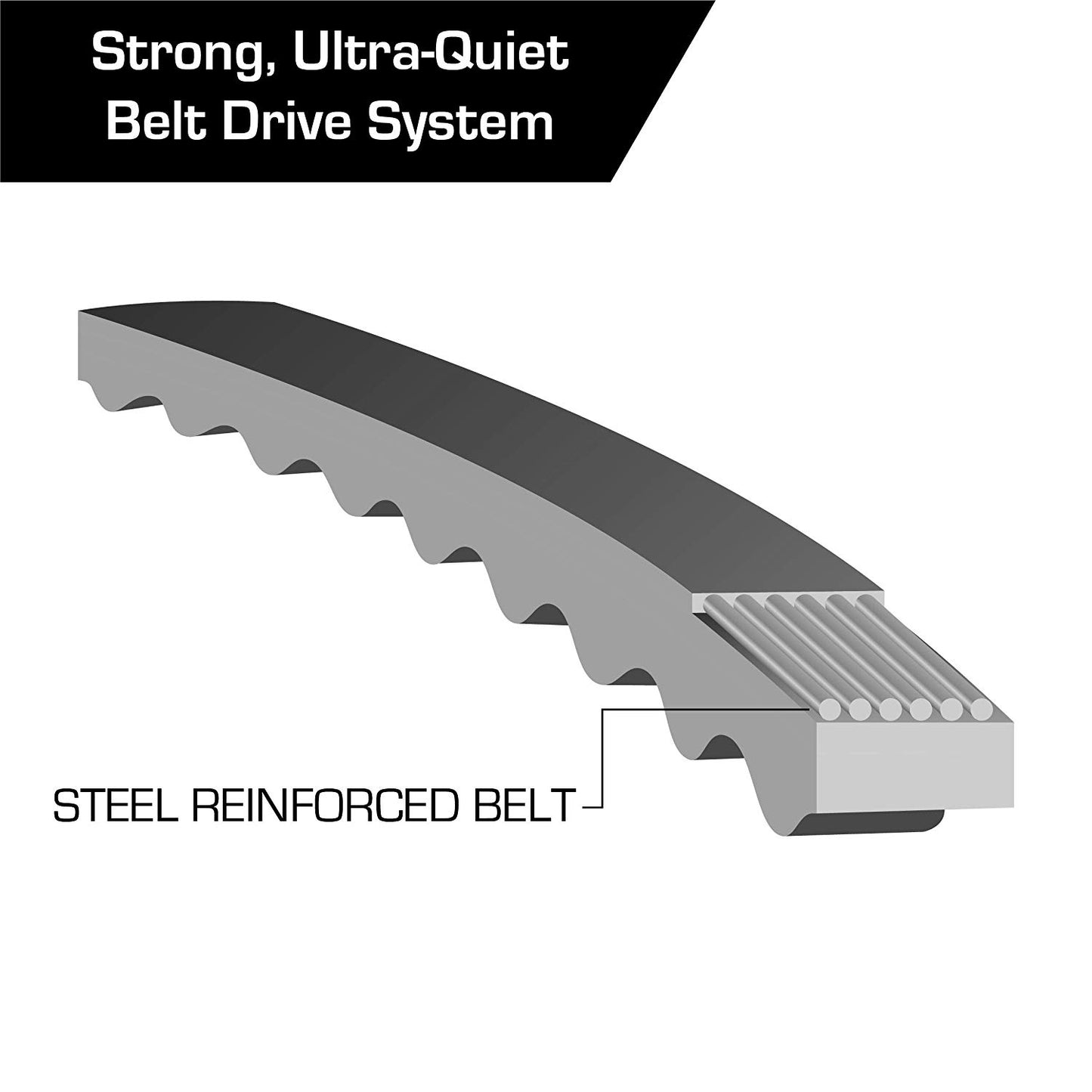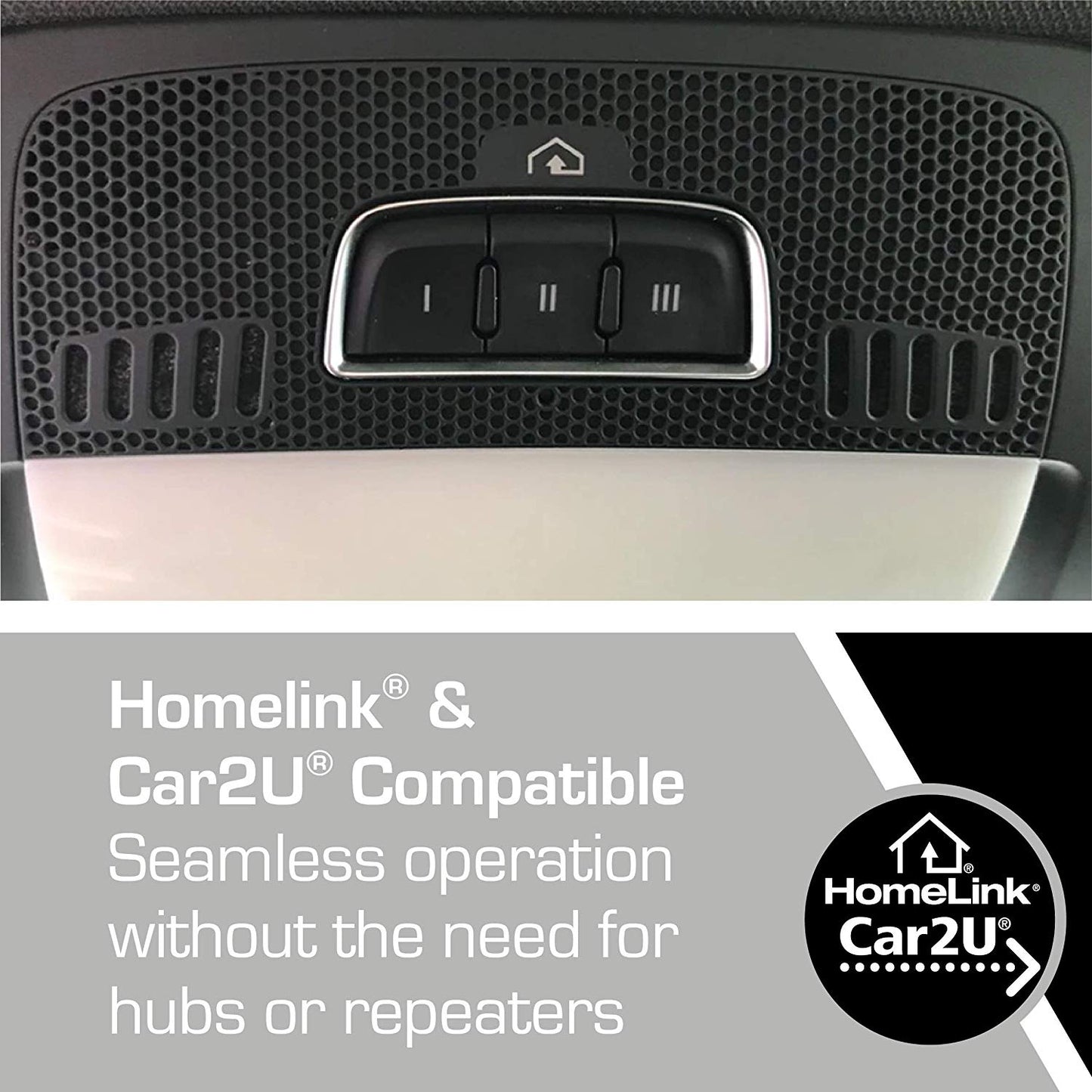 Hello, I live in Anaheim Ca and would like to buy the 2055 garage door opener but Amazon will not deliver to this particular item to this area. Does Genie happen to know why?

Yes, California has a state law that requires all garage door openers sold to have a battery backup device included with the opener.  This Genie model 2055 does not have a battery backup.  A comparable model that does have the battery backup would be the model 7055.

Well this door be strong described door open to be strong enough to lift a 16 ft door and does it come with the belt drive and the steel piece that goes to the spring from the unit

This unit can lift a 16 foot wide door up to 500 lbs.  This would cover most metal doors, but wooden doors or windloaded (hurricane) style doors may be too heavy.

How do i program a new GT3 garage opener? If I buy it today, Saturday, how long will it take to arrive? I need it by Tuesday.

The G3T remote can be programmed to the Stealth 500 model by following these instructions. (Click for instructions)

We ship all orders from Ohio by UPS ground Monday through Friday. Most orders ship the same day or the next day after the order is placed. If an order is placed on Saturday, it would not ship until Monday. The time it takes depends on where you live. The G3T remote is also available at some local home center stores, like Home Depot. You can check with your local store for availability.

Can you turn on the lights without opening door? Other units have this option, but a different wall switch, will one of those work to turn on the lights of this unit?

This model comes with a push button only. It would not allow you to turn on the lights alone. You can add the Series II Wall Console to this model and it would let you turn the lights on and off from the wall console.

Will this open up 8 foot door

Out of the box this will open a 7-foot high garage door. If you add the extension kit, it will work on an 8-foot high garage door.

How to change a passcode for garage door opener

If your current passcode (pin) number works all you will have to do is enter the current pin number, press and release program, then enter the new pin number you want to make and press and release program again.
Why Choose an Ultra-Quiet Genie Belt Drive Garage Door Opener
Installing a Belt Drive Garage Door Opener with the BILT App
Installation Video
This Genie product offers 3D Interactive Instructions in the free BILT® App available for download. 
Support for models: 
1035, 1055, 2036, 2033, 3053, 2035, 2055, 3035, 3055, 7035, 7055 (ChainDrive 550, Chain Drive 750, SilentMax® 550, StealthLift® 500, SilentMax® 750, Chain Glide Connect, SilentMax Connect, QuietLift Connect, Chain Drive 500, Chain Drive 525, QuietLift™ 750, StealthDrive® 750)
Genie Belt/Chain Garage Door Opener Installation Poster
Genie Belt/Chain Garage Door Opener Owners Manual
Standard Genie Garage Door Opener Features
Keeps your home and family safe by changing the access code from billions of combinations at each door activation to help prevent unauthorized access.

Patented technology that automatically finds the best line of communication between Genie® products. This maximizes the range of radio frequency devices and improves the overall performance of products.

Provides safety by continuously monitoring the operation of the garage door opener, stopping the operation to alert you when significant changes occur.
Add these accessories to Genie Belt Drive Garage Door Openers

FREE SHIPPING ON ALL US ORDERS 17.99 AND UP