Need replacement parts for this Genie Garage Door Opener model?  >>CLICK HERE<<
The Genie ChainMax durable chain drive garage door opener provides the ultimate combination of reliability and strength. This garage door opener is packed with all of the latest technology at a reasonable price. It also has a GenieSense enabled DC motor that provides unmatched durability, making it the ideal choice to open most 7-foot high garage doors. The ChainMax, like all Genie garage door openers, comes equipped with Intellicode rolling code technology that prevents unauthorized persons from opening your garage door. You will also enjoy the added conveniences of 2 pre-programmed 3 button remotes for quicker set-up, and a wall control panel with an independent light button and vacation lock for added security. The Genie Safe-T-Beam garage door safety sensors ensure your family's safety and help prevent accidents with an infrared beam of light across the door opening. The ChainMax garage door opener is supported by our team of US-based technical support representatives available by phone or chat.

 1/2 HPc POWER: DC Motor is lightweight for easier installation with the ability to provide power to operate residential sectional garage doors up to 7 feet high and 500 lbs in weight (or up to 8' high with an extension kit (sold separately as part number 39027R).  
EASIER TO INSTALL: Strong 5-piece rail system snaps together with no added hardware.
ACCESSORIES INCLUDED: Two preprogrammed-3-button remotes, a wireless keypad, giving you the ability to open the door with a personal pin number, and a Multi-Function wall console with a vacation lock and light control button.
SMARTSET™ PROGRAMMING: Push-button programming makes set up fast and easy.
GENIE EXCLUSIVE: Out-of-the-box works with popular built-in car remotes systems such as HomeLink and Car2U without the need for any additional hardware, such as bridges or repeaters.
STANDARD FEATURES INCLUDE: Safe-T-Beam Non-contact reversing system, GenieSense Monitoring, and diagnostic technology, and Intellicode Access security.
10-YEAR MOTOR AND GEARBOX WARRANTY: 5-year chain, 1-year parts, and accessories warranty.
 Notice to California Residents: As of 07/01/2019, this item cannot be shipped to the state of California due to Senate Bill No. 969. If the shipping address on any order is the state of California the order will be canceled. California residents must purchase a garage door opener with a battery backup included. Please see other options of Genie garage door openers with battery backup options to purchase.  
UPC: 050049020453
SKU: 38957R
ASK A QUESTION
View full details
2035-TKV Chain Drive 550- Model ½ HPc Garage Door Opener
$0.00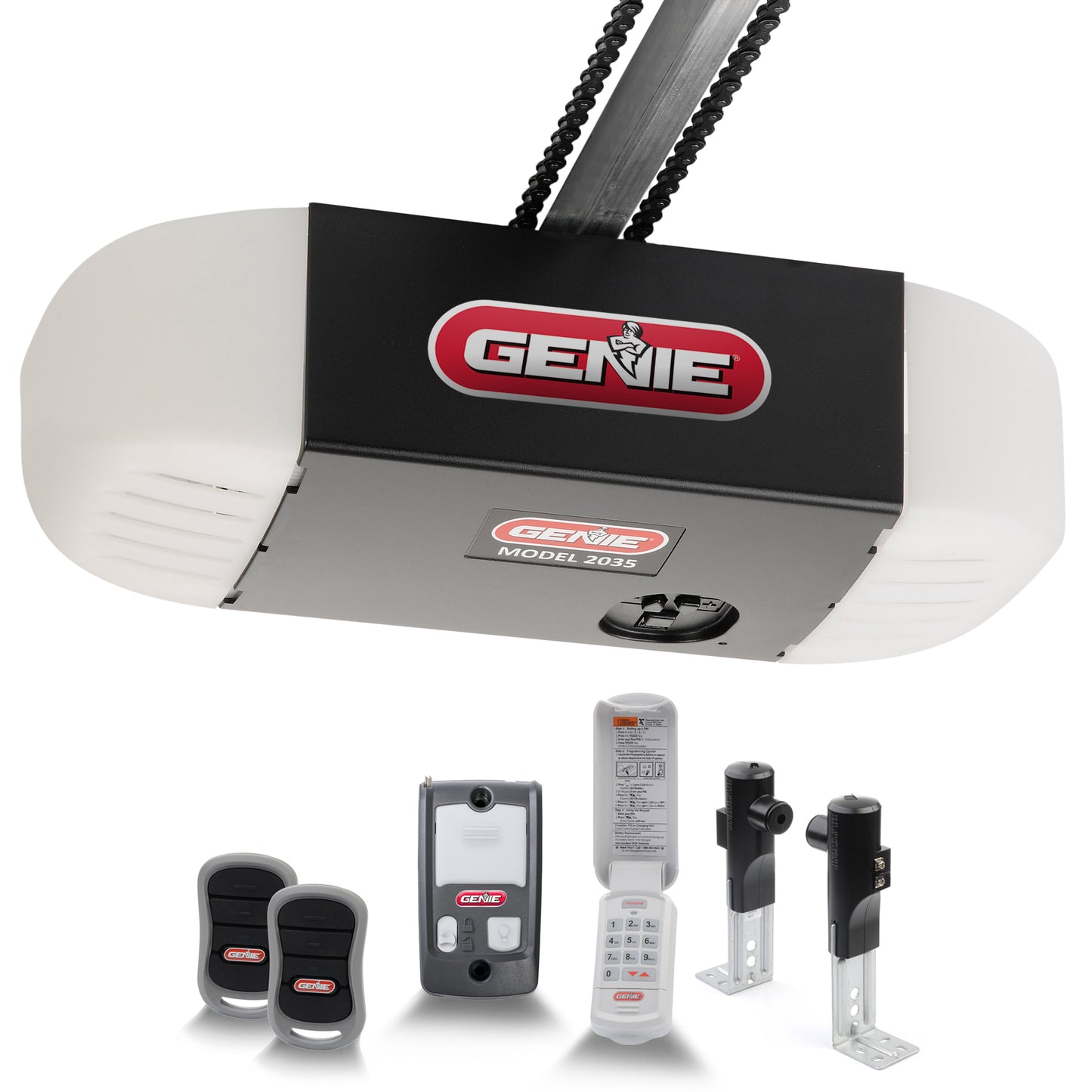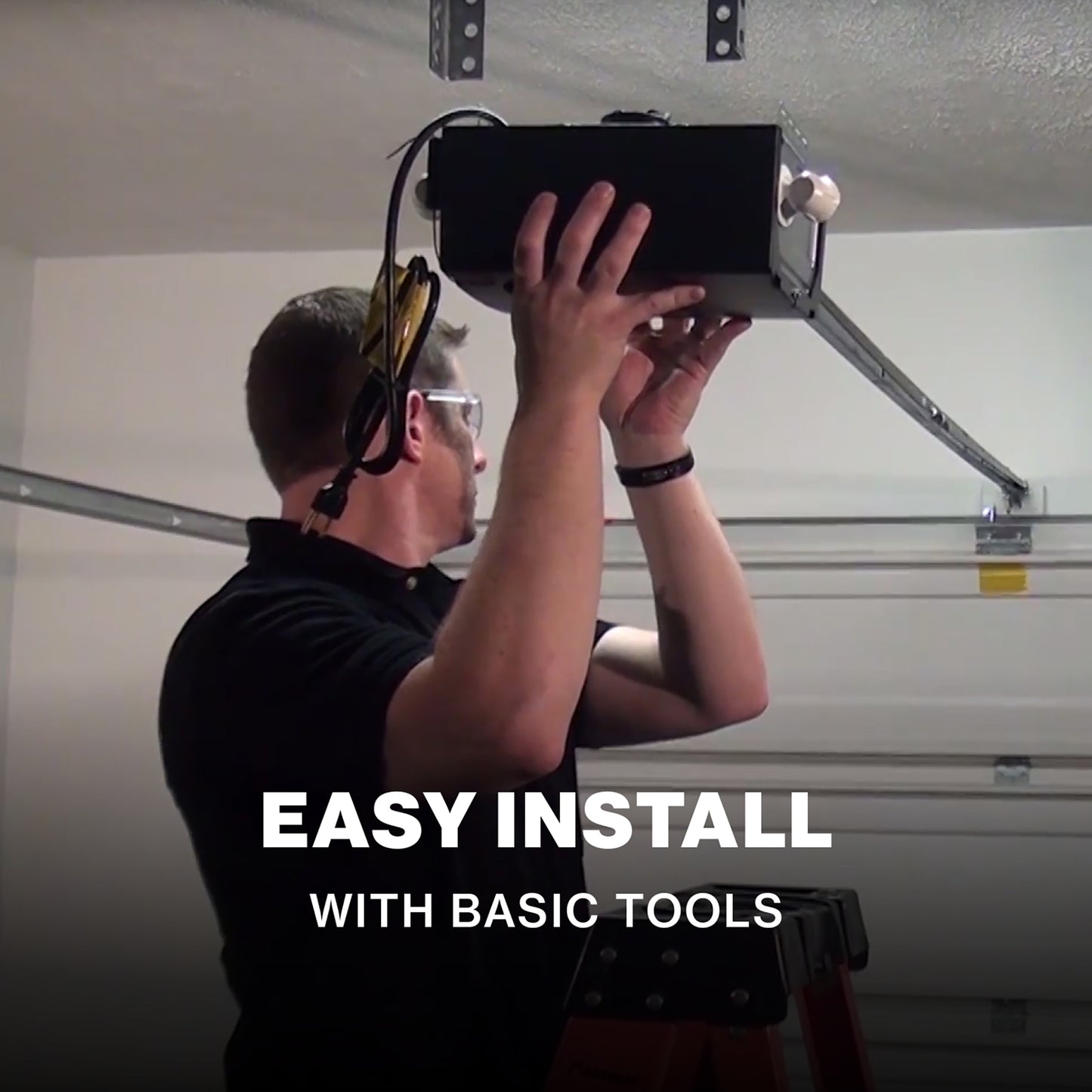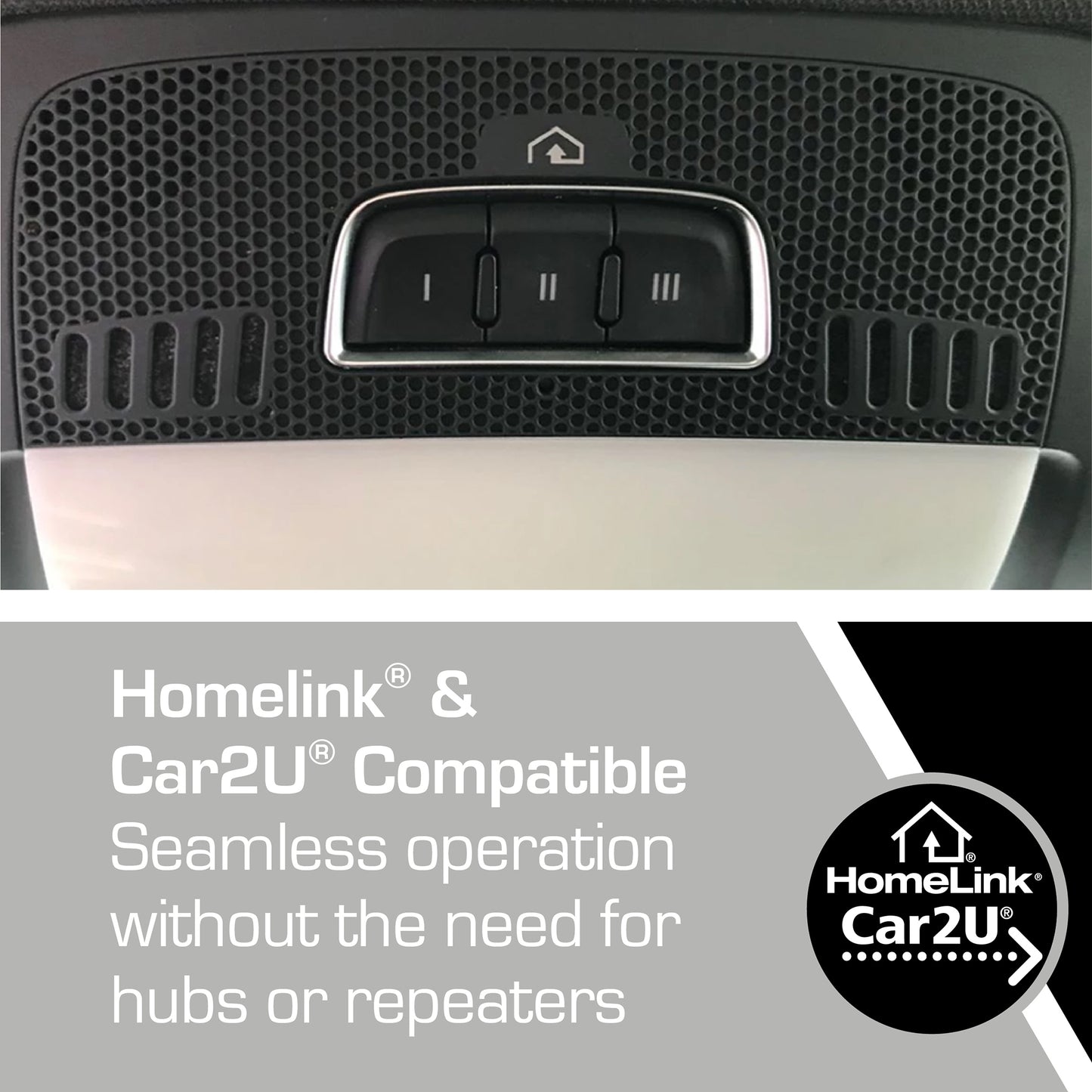 Where is there training button located on the unit

The training programming can be accessed by pressing and holding your PRG/SET button for several seconds until a blue light illuminates, then release and a purple light will flash, you may then complete your programming of remote devices.

How do I adjust the travel distance on a 2035-TKV garage door opener

Please see below instructions to reset the limit settings on a 2035. 

To reprogram your limits, you will want to start with your door in the open position and engaged to the opener (make sure the red cord has not been pulled, if so lock it back into the bullet on the chain or belt before proceeding). To program the limits, you will want to press and hold the down arrow button (-) until the long LED comes on blue.  Release, and the LED will begin to flash blue. Press and hold the down arrow button (-) to close the garage door. When the door lightly touches the ground, you will release. Press and release the square button. Both LEDs flash blue and go off. Press and hold the open arrow (+) until the long LED come on blue. Release. Press and hold the open arrow to open the garage door. When the door is all the way open (do not allow it to hit the powerhead). Release. Press and release the square button.  Both LEDs flash blue and go off. Go to the wall console and press and release the button on the wall to fully close the garage door. Once the door is fully closed, you will want to press and release the button on the wall again to open the door all the way.

I have a newly installed, but not yet working model 2035 Genie,chain drive opener. Once installed, and power on, one of the safe-t-beams lights up red and the other does noting. The wired inside wall console lights up red.. is the safe-t-beam the issue (not totally properly aligned?) or could it be something else. The outside control has not be programed or installed.

If the green safe-t-beam sensor is not lighting up, the issue is either the green sensor is defective, or the wiring to the green sensor is not connected or damaged in some way.  You can check the wiring to your green sensor and make sure all connections are good, also check for frayed wiring or damage back to the motor box.  If no damage is observed we would recommend replacing the safe-t-beam set.

How much is this product

Please visit the retailer link for the prices on this garage door opener.

Can this unit be installed on a single panel ( single 16' x 7' ) garage door? Not a sectional door.

No, this model garage door opener cannot be used on a one piece door. It is recommended for sectional garage doors only.

Motor does not run with remotes or wall console. Motor runs manually by pressing up and down buttons. Wall switch lights up and lights work. Also sensors are working one lights up red other green. Thanks.

Are there any lights on the bottom of the powerhead that are on or flashing?

Can this opener operate an insulated (steel insulation steel) 10'x10' clopay garage door? Do I need the extension kit? If so what model#?

No, this will not work on a 10 foot high garage door opener.

Where is the smart or learn button?

The 2035 model has a square program button on it that works as the learn button.

I open the door 1-2 feet and it drifts closed

To check the balance of your garage door, disconnect the operator from the door (in the down or closed position) by pulling the emergency release cord. Lift the garage door to where you can see halfway outside the garage. The door should stay there, a slight movement to settle is acceptable. To check for smooth operation, roll the door all the way up and down slowly with your palms to check for smooth, even travel and that there is no binding or sticking. If the garage door is not balanced or operating properly, we would recommend that you call your local professional garage door installer.

Will the 2035 open a 2 car garage door?

If it is one garage door, and 7-foot high, and the door is well balanced it will work.

How much clearance for safety beams?

Your safety beams should be mounted 5"-6" above the floor of the garage.

Is all mounting hardware included, lag bolts etc

Yes, the hardware needed to install the opener comes in the box.
Why Choose a Genie Chain Drive Garage Door Opener
Installing a Chain Drive Garage Door Opener with the BILT App
This Genie product offers 3D Interactive Instructions in the free BILT® App available for download. 
Support for models: 
1035, 1055, 2036, 2033, 3053, 2035, 2055, 3035, 3055, 7035, 7055 (ChainDrive 550, Chain Drive 750, SilentMax® 550, StealthLift® 500, SilentMax® 750, Chain Glide Connect, SilentMax Connect, QuietLift Connect, Chain Drive 500, Chain Drive 525, QuietLift™ 750, StealthDrive® 750)
Genie Belt/Chain Garage Door Opener Installation Poster
Genie Belt/Chain Garage Door Opener Owners Manual
Standard Genie Garage Door Opener Features
Keeps your home and family safe by changing the access code from billions of combinations at each door activation to help prevent unauthorized access.

Patented technology that automatically finds the best line of communication between Genie® products. This maximizes the range of radio frequency devices and improves the overall performance of products.

Provides safety by continuously monitoring the operation of the garage door opener, stopping the operation to alert you when significant changes occur.
Add these accessories to Genie Chain Drive Garage Door Openers

FREE SHIPPING ON ALL US ORDERS 17.99 AND UP