Need replacement parts for this Genie Garage Door Opener model?  >>CLICK HERE<<
The Genie SilentMax® 1200 garage door opener comes with a 140V DC motor that is lighter in weight and provides ultra-quiet and smooth operation so that your family will not be disturbed by a noisy garage door opener. The SilentMax garage door opener features a Genie steel-reinforced belt, making it both strong and quiet. You can count on getting many years of worry-free service and the peace of mind provided by the Genie limited lifetime warranty. Safety features include the Safe-T- Beam garage door safety sensors and GenieSense diagnostic technology. This garage door opener is also made with an enclosed C-Channel rail design to ensure the highest levels of safety. The SilentMax garage door opener is also equipped with Genie Intellicode rolling code technology that prevents unauthorized persons from opening your garage door. You will also enjoy the added conveniences of 2 pre-programmed 3 button remotes, a wireless exterior keypad, and a wall control panel with an independent light button and vacation lock for added security.  Genie's SmartSet programming makes the setup for this belt drive garage door opener fast and easy, with the simple push of a button. The SilentMax® 1200 model also comes standard with a motion-sensitive light detector. The motion sensor lighting is a great added on safety feature; it automatically turns on the garage door opener light when anything moves in the garage whether the garage door is open or closed. 
3/4 HPc* POWER: 140 Volt DC motor provides power to operate almost any residential garage door up to 7' high out of the box, or up to 8' high with an extension kit (sold separately as part number 37302R).
OPENING SPEED: Up to 9.0 inches per second to provide fast performance.
MOTION DETECTION LIGHTING: automatically turn the overhead lights on for added convenience and security
ACCESSORIES INCLUDED: Two pre-programmed 3-button remotes, a wireless keypad, giving you the ability to open the door with a personal pin number, and a Multi-Function wall console with vacation lock and light control button.
SMARTSET™ PROGRAMMING: Push button programming makes set up fast and easy.
GENIE EXCLUSIVE: Out-of-the-box works with popular built-in car remotes systems such as HomeLink and Car2U without the need for any additional hardware, such as bridges or repeaters.
STANDARD FEATURES INCLUDE: Safe-T-Beam Non-contact reversing system, GenieSense Monitoring and diagnostic technology, and Intellicode Access security
LIMITED LIFETIME MOTOR AND GEARBOX WARRANTY: 15-year belt, 5-year parts, and 1-year accessories warranty.
 Notice to California Residents: As of 07/01/2019, this item cannot be shipped to the state of California due to Senate Bill No. 969. If the shipping address on any order is the state of California the order will be canceled. California residents must purchase a garage door opener with a battery backup included. Please see other options of Genie garage door openers with battery backup options to purchase.  
UPC: 050049018719
SKU: 37281V
ASK A QUESTION
View full details

4042-TKH SilentMax® 1200 - Belt Drive ¾ HPc Model Garage Door Opener w/ Motion Lighting
$0.00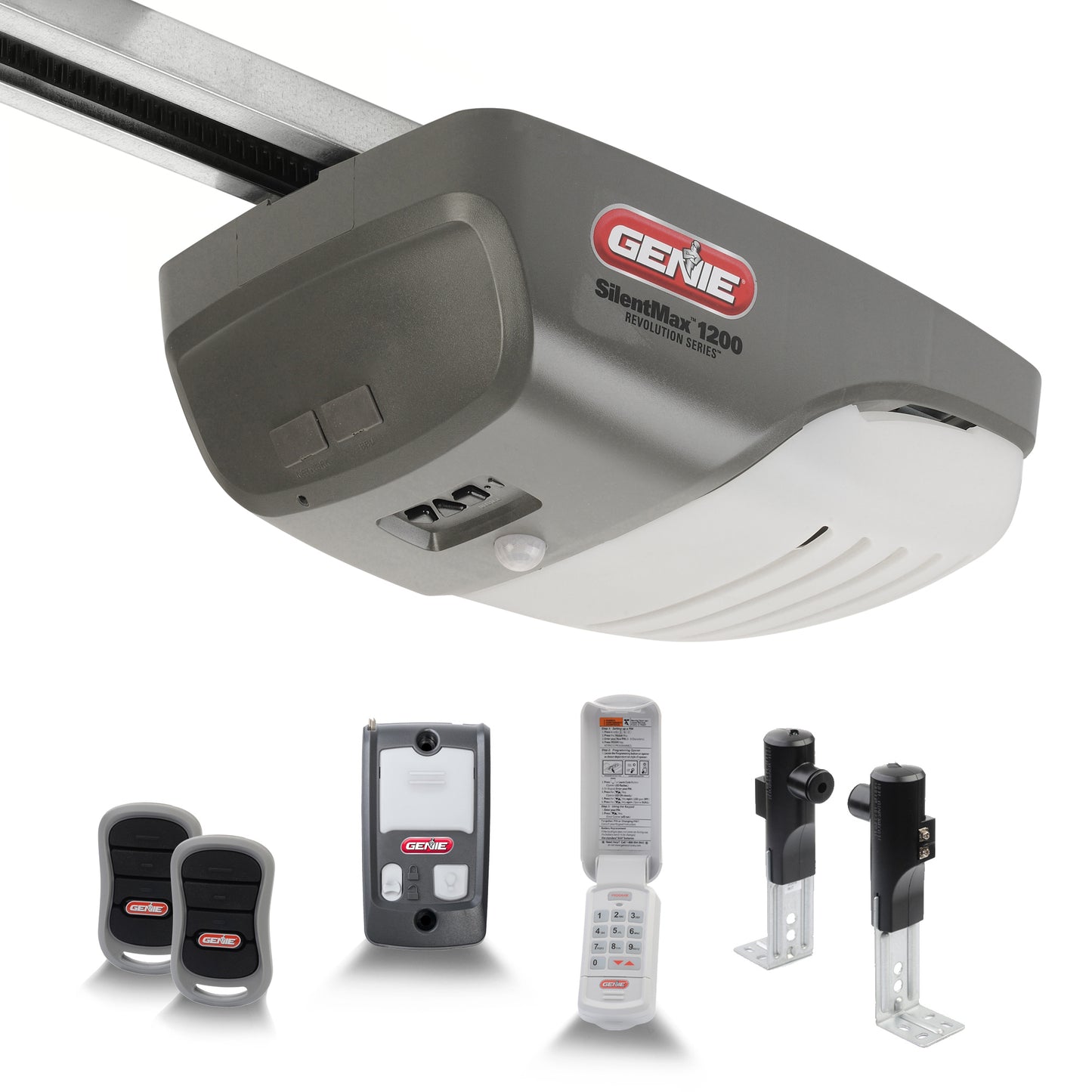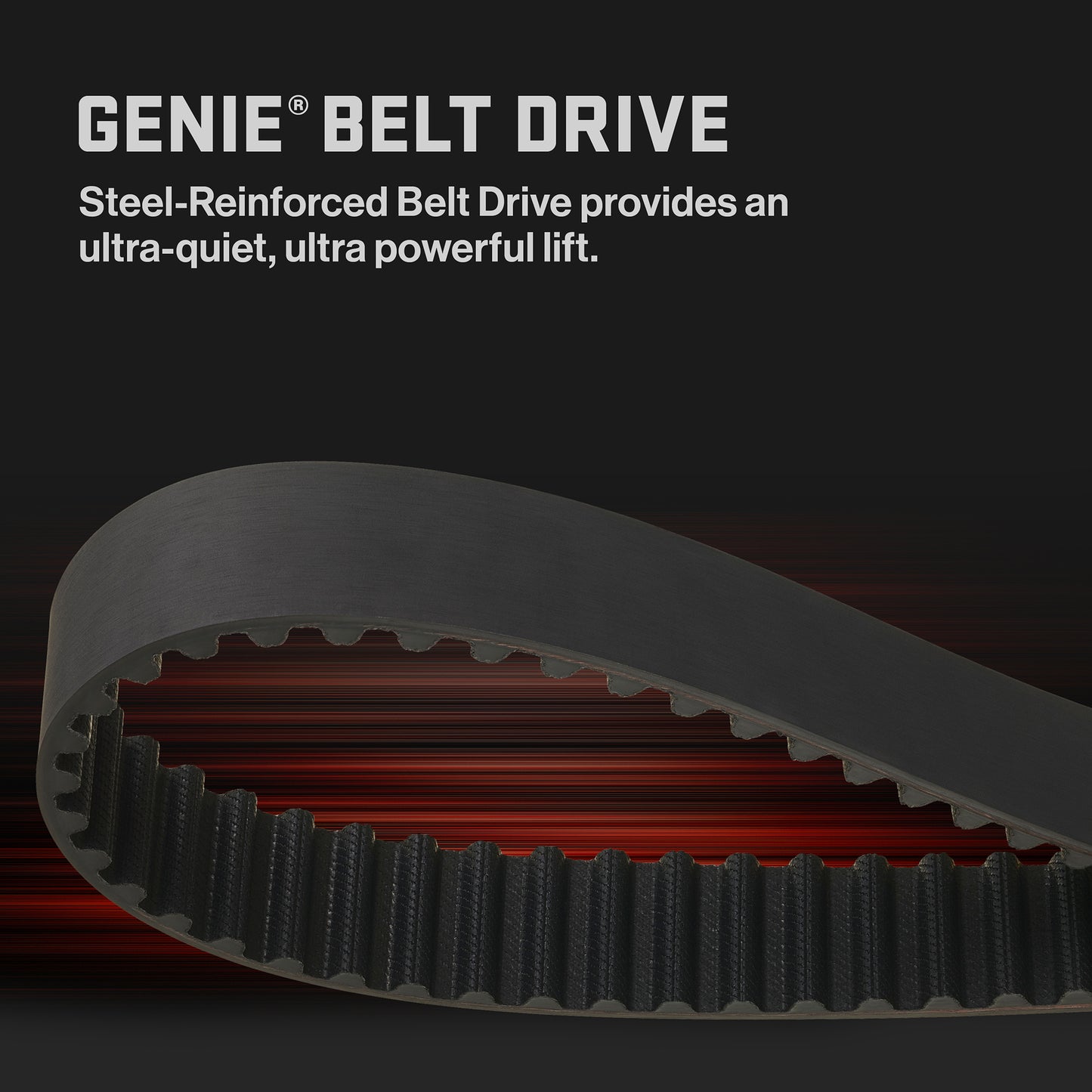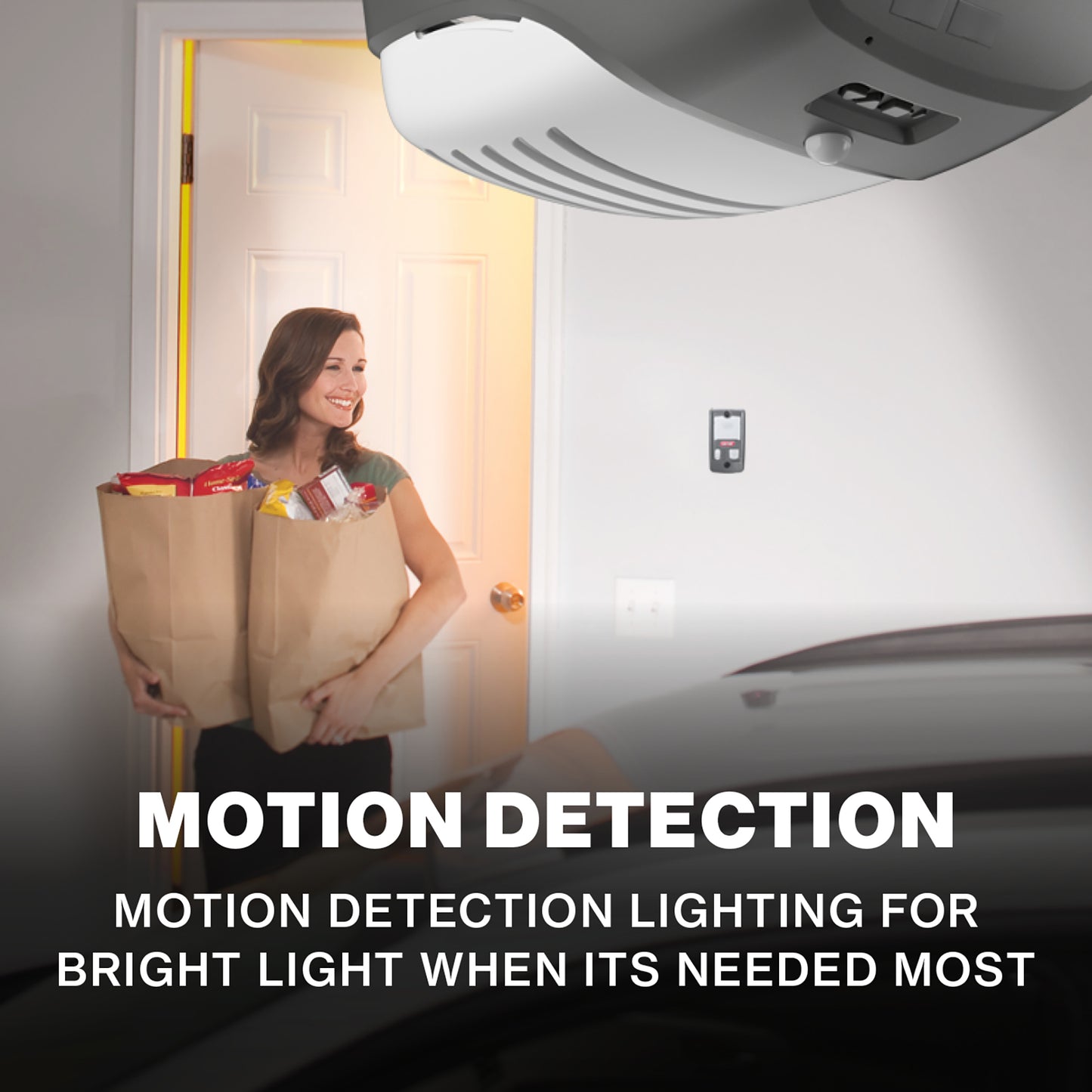 How many remotes can you program and vehicles can you program. We have 3 vehicles that need to open the door and 5 remotes that do also

Model 4042-TKH can program up to 20 remote devices so you will be able to program those 8 devices without issue.

Will this door opener work with a 9' door?

No.  This unit out of the box works on 7ft high garage doors, and with an extension kit, up to 8ft high garage doors.

Hi. Are any of your door openers dual voltage (120/240V AC)?

No, they are not.

can I get a 12 foot track

This will not work on a 12-foot high garage door.

Is this suitable for a 7' x 16' garage door?

Yes, it is!

Currently have the 1000 silent max model, could I replace it with the 1200 model instead?

You can replace it with the 1200 model.

Can the Motion Detecting Lights be turned off?

No, it cannot. You would have to unplug the motion sensor inside the powerhead. That would stop it from working, but it would stay off at all times. There is no way to turn it on/off without unplugging it.

how long is the rail

The rail this comes with will allow up to a seven-foot-high garage door to open.

Is there an extension for 10' doors?

No, there is not. For a 10-foot high door we would recommend a professional model garage door opener. You can locate a Genie dealer in your area at here by entering your zip code.

Is this a good replacement for the trilog 1200?

Yes it is. You will be able to use any wireless devices you have from the TriloG 1200 in addition to the new ones that come with this one.

What would be a good replacement for a 2024 2TX?

Yes, it would! You would be able to use the remotes from you 2024 too!

Does this opener come with everything you need to install? Buying for new construction home.

Yes, it does. 

What is the Model 4042-TKH extension part number?

You would need the 37302R.

Is this drive Homelink compatible?

Yes it is!

(1) Is that true the motion light has no option to switch off? (2) Can user use the wall panel to turn light off? (3) when user walk in the garage and triggered the safety sensors, will the light auto on?

To disable the motion sensor on the model 4042 Genie garage door opener, you would need to disconnect it inside of the opener.
Yes, the wall console can be shut off by the wall console when it comes on. 
No, the overhead lights do not come on when the safety beams are interrupted.
Product Support for Genie Garage Door Openers 3022, 3024, 3042, 4022, 4024, 4042   (ChainMax™ 1000, IntelliG® 1000, SilentMax® 1000, ChainMax 1200, IntelliG® 1200, SilentMax® 1200)
Chain/Belt Drive Installation Poster
Chain/Belt Drive Owners Manual
Standard Genie Garage Door Opener Features
Keeps your home and family safe by changing the access code from billions of combinations at each door activation to help prevent unauthorized access.

Patented technology that automatically finds the best line of communication between Genie® products. This maximizes the range of radio frequency devices and improves the overall performance of products.

Provides safety by continuously monitoring the operation of the garage door opener, stopping the operation to alert you when significant changes occur.
Shop additional remotes for your Genie Garage Door Opener

FREE SHIPPING ON ALL US ORDERS 17.99 AND UP