Need replacement parts for this Genie Garage Door Opener model?  >>CLICK HERE<<
The Genie ChainGlide Connect durable chain drive smart garage door opener that provides the ultimate combination of reliability and strength. This wifi garage door opener is packed with all of the latest technology at a reasonable price. The integrated Aladdin Connect Wifi smartphone technology allows your garage door to be part of your smart home. The Genie Aladdin Connect smartphone app is free and allows you to set up individual users through their own app and set up virtual keys to operate your garage door opener. It also has a GenieSense enabled DC motor that provides unmatched durability, making it the ideal choice to open most 7-foot high garage doors. The ChainGlide Connect, like all Genie garage door openers, comes equipped with Intellicode rolling code technology that prevents unauthorized persons from opening your garage door. You will also enjoy the added conveniences of 2 pre-programmed 3 button remotes for quicker set-up, and a wall control panel with an independent light button and vacation lock for added security. The Genie Safe-T-Beam garage door safety sensors ensure your family's safety and help prevent accidents with an infrared beam of light across the door opening. The ChainGlide Connect smart garage door opener is supported by our team of US-based technical support representatives available by phone or chat.
FEATURING ALADDIN CONNECT WIFI: The opener has an integrated Wi-Fi connection so no additional door sensor is required. Simply connect the opener to your home Wi-Fi network and pair your families' devices through the free downloadable app and you have a smartphone connection in no time! Aladdin Connect is compatible with the most popular smart home platforms like Amazon Alexa and Google Assistant
1/2 HPc POWER: DC Motor is lightweight for easier installation with the ability to provide power to operate residential sectional garage doors up to 7 feet high and 500 lbs in weight (or up to 8' high with an extension kit (sold separately as part number 39027R).  
EASIER TO INSTALL: Strong 5-piece rail system snaps together with no added hardware.
ACCESSORIES INCLUDED: Two preprogrammed-3-button remotes, a wireless keypad, giving you the ability to open the door with a personal pin number, and a Multi-Function wall console with vacation lock and light control button.
SMARTSET™ PROGRAMMING: Push button programming makes set up fast and easy.
GENIE EXCLUSIVE: Out-of-the-box works with popular built-in car remotes systems such as HomeLink and Car2U without the need for any additional hardware, such as bridges or repeaters.
STANDARD FEATURES INCLUDE: Aladdin Connect technology, Safe-T-Beam Non-contact reversing system, GenieSense Monitoring, and diagnostic technology, and Intellicode Access security.
10-YEAR MOTOR AND GEARBOX WARRANTY: 5-years chain, 1-year parts and accessories warranty.
COMPATIBLE WITH: Genie LED light bulbs. (Sold separately).
MODEL: 2033-TKV
 Notice to California Residents: As of 07/01/2019 This item cannot be shipped to the state of California due to Senate Bill No. 969. If the shipping address on any order is the state of California the order will be canceled. California residents must purchase a garage door opener with a battery backup included. Please see other options of Genie garage door openers with battery backup options to purchase.  
UPC: 050049021184
SKU: 39725R
ASK A QUESTION
View full details
ChainGlide Connect 1/2 HPc Garage Door Opener- Wi-fi Enabled Durable Chain Drive - Works W/ Amazon Alexa and Google Home
$0.00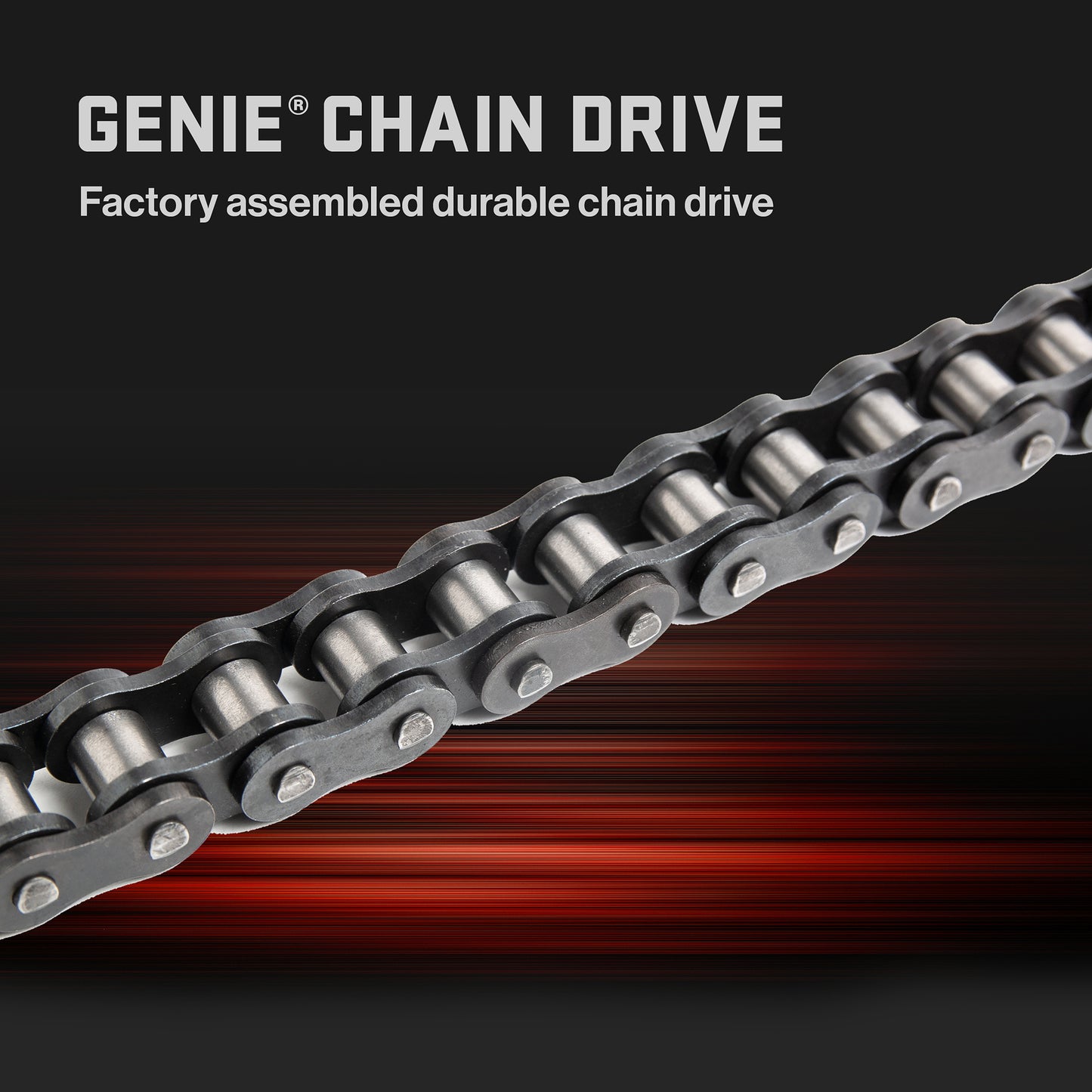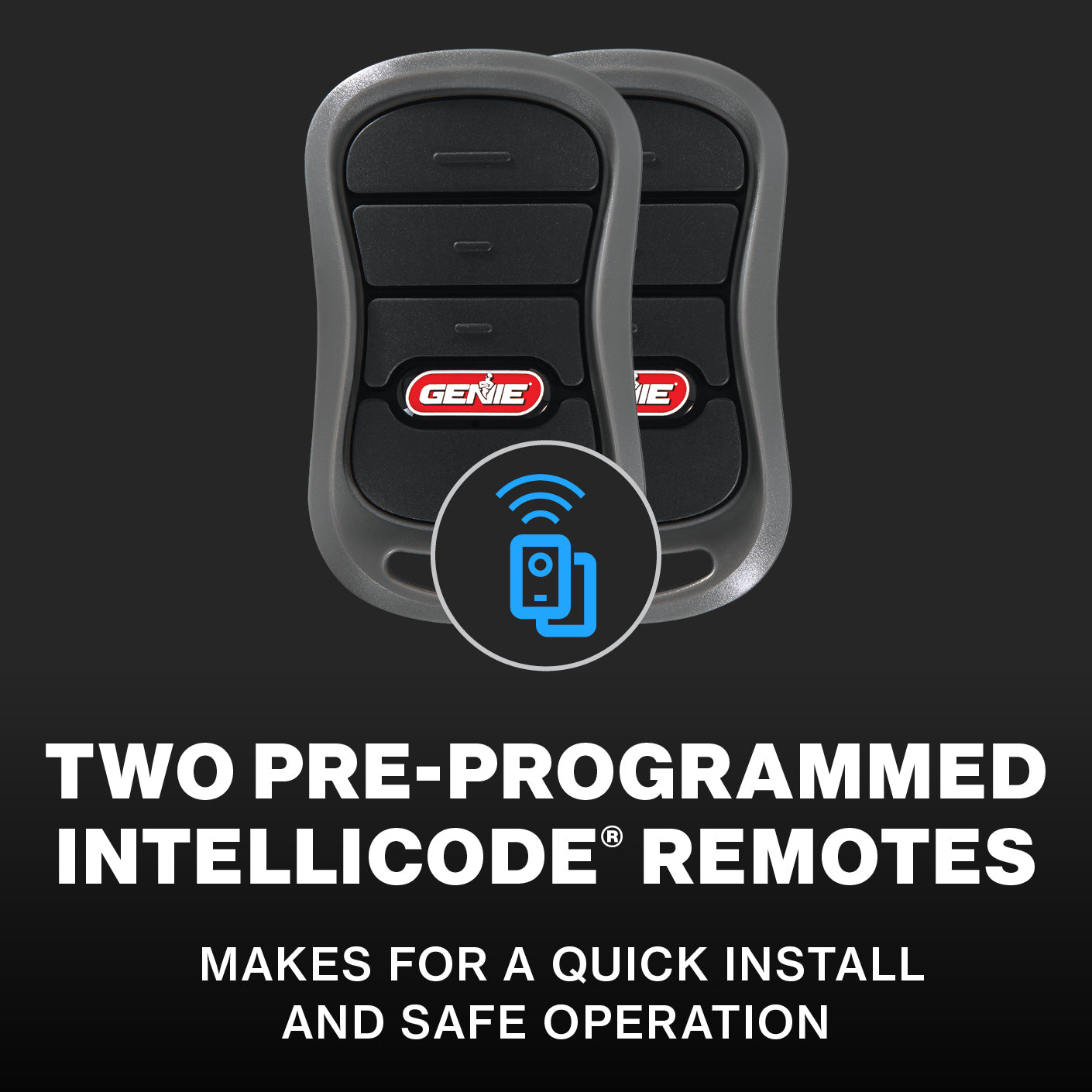 i need a replacement for 696CD/B. genie garage door opener "head." mine is old and not working. i need replacement parts (motor and relay) or replacement head. i would rather not replace the t-drive (chain). thank you!

Unfortunately, we do not have any motor heads available that are compatible with the rail on your model, so you would need to replace the entire operator.  The most comparable model would be a 3022 (retail) or 3024 (pro).

Will this work with a 9 foot door?

Sorry no, this model will only work a 7 foot tall door or 8 foot tall with separately purchased extension kit.

I currently have a Genie Silent Max 1000 Model 3042 garage door opener. I don't see the same opener on your website. What model should I purchase to replace the existing unit and where would I go to purchase it. I'm in zip code 94506. Thank you.

The 3042-TKH SilentMax 1000 model garage door opener is available online. To check with a local professional dealer in your area about a replacement for your model you can contact: 



BAY AREA GARAGE DOOR

1238 VERMONT ST.

SAN FRANCISCO, CA 94110

BILL'S GARAGE DOOR

P.O. BOX 7296

REDWOOD CITY, CA 94063

OVERHEAD DOOR OF SANTA CLARA VALLEY

1266 LAWRENCE STATION RD.

SUNNYVALE, CA 94089

I need 2 garage door openers for my 2-car garage, but I don't need double all the accessories. Can I purchase one garage door opener (this kit) and then just the garage door opener to link with this kit. To better explain, I need 2 garage door openers and rails, 2 remotes, one keypad, one wall console to operate both garage door openers. Is this doable? And if so, what do you recommend that I purchase?

We have certain models that would come with fewer accessories. So, if you want to purchase one with more accessories and the other version with less, you can compare the price differences on which ones you need. For example the 2033-TKV and the 2033-LO.

Why does the two pre-programmed remote controllers open the door but it does not shut the door

They should shut the door. If they do not, it sounds like an issue with your Safe-T-Beams. You will want to make sure your Safe-T-Beams are installed. If they are, then you should have one with a solid red light and one with a solid green. If either is off or the red one is flashing, that indicates an issue. For further assistance, please contact Genie customer service at 1-800-354-3643.

I own another genie garage door opener for my other garage door, model 1028. If I get an additional door sensor, can use the Alladin app to operate and check that door, too?

No it would not. The units that have built in Aladdin will only operate that door. You would have to get the Aladdin Connect add on kit to work the doors without the integrated Aladdin Connect.

Can this opener be programed and used without Wi-Fi?

Yes, you do not have to connect the Wi-fi to use the garage door opener. You will still be able to operate it with the wall console, remotes, and keypad. You would just not be able to use a smart device to control it.

do you offer installation with purchase ? how much? single car garage 7foot

We do not offer installation. We can refer you to a local authorized Genie dealer in your area that would be happy to install it for you. You can locate one at www.geniecompany.com by entering your zip code, or contact our customer service at 1-800-354-3643.

Can this garage door opener work with the Amazon Alexa app? If so, can I use the Alexa app to open and close the garage door?

Update! Aladdin Connect now works with Alexa!

Reset travel on the garage door

First, begin with the door open. You will need access to the square program/set button and the up and down arrow buttons on the garage door opener motor unit. If the door is not in the opened position, please press and hold the up arrow until you see a blue LED, then release. Then, press and hold the up arrow until the door is open. Once it is open, release the button, and wait for the LEDs to time out. Once it times out, begin programming the limits. Please press and hold the down arrow button until you see a blue LED and release. Then, press and hold the down arrow until the door is all the way closed. You don't want it to slam against the ground, you want it to lay gently. Once it is where you want it, release the button. You will then press and release the square program/set button. Then, press and hold the up arrow until you see the blue LED, then release. Then, press and hold the up arrow until the door is all the way open. We generally recommend the bottom of the door is even with the header of the garage. Just make sure you don't hit the motor unit. Once it is where you want it, release the button and press and release the square button. Then, go to your wall console. You will run the opener all the way close and all the way open with the wall button. Make sure you are happy with where the door stops. If you are not, you can reset the limits until you are happy with them.
Why Choose a Genie Chain Drive Garage Door Opener
Installing a Chain Drive Garage Door Opener with the BILT App
This Genie product offers 3D Interactive Instructions in the free BILT® App available for download. 
Support for models: 
1035, 1055, 2036, 2033, 3053, 2035, 2055, 3035, 3055, 7035, 7055 (ChainDrive 550, Chain Drive 750, SilentMax® 550, StealthLift® 500, SilentMax® 750, Chain Glide Connect, SilentMax Connect, QuietLift Connect, Chain Drive 500, Chain Drive 525, QuietLift™ 750, StealthDrive® 750)
Genie Belt/Chain Garage Door Opener Installation Poster
Genie Belt/Chain Garage Door Opener Owners Manual
Standard Genie Garage Door Opener Features
Keeps your home and family safe by changing the access code from billions of combinations at each door activation to help prevent unauthorized access.

Patented technology that automatically finds the best line of communication between Genie® products. This maximizes the range of radio frequency devices and improves the overall performance of products.

Provides safety by continuously monitoring the operation of the garage door opener, stopping the operation to alert you when significant changes occur.
Add these accessories to Genie Chain Drive Garage Door Openers

FREE SHIPPING ON ALL US ORDERS 17.99 AND UP