Need replacement parts for this Genie Garage Door Opener model?  >>CLICK HERE<<
The Genie SilentMax 750 garage door opener offers an ultra-quiet DC motor along with the accessories you need. The SilentMax garage door opener features a Genie steel-reinforced belt, making it very quiet and the ideal choice for garages attached to living spaces. You can count on getting many years of worry-free service and the peace of mind provided by the Genie limited lifetime warranty. Safety features include the Safe-T Beam garage door safety sensors and GenieSense diagnostic technology. The SilentMax garage door opener is also equipped with Genie Intellicode rolling code technology that prevents unauthorized persons from opening your garage door by automatically changing the access code every time you use it. You will also enjoy the added conveniences of 2 pre-programmed 3 button remotes, a wireless exterior keypad and a wall control panel with an independent light button and vacation lock for added security. 
3/4 HP DC motor will smoothly and quietly lift sectional garage door up to 7 ft. in height and up to 500 lbs.
Ultra-quiet belt drive opener is ideal for garage door opener close to living spaces
Maintenance-free precision machined motor and gearbox backed by a limited lifetime warranty
Genie's smartset programming makes set-up fast and easy with the simple push of a button
Easier to install strong five-piece rail system snaps together with no added hardware
For added security, control the wireless keypad with a personal pin number
Wall control panel has a vacation lock for added security and a light control button to control lights independently
Keep your home safe with state-of-the-art security of Genie Intellicode that changes the opener's access code when the remote is used
Safe-T-Beam system keeps your pets and family safe by reversing the closing door if anything passes through the beam
Works with popular built-in car remotes systems such as HomeLink and Car2U (Genie exclusive)
GenieSense Monitoring technology minimizes wear and tear by always monitoring the door
Includes two preprogrammed, three-button Genie remotes, multi-function wall console and wireless keypad
Lightbulbs not included; for best results use Genie LED lightbulbs
Designed for 7 ft. doors; extension kit available for 8 ft. high residential garage doors (39026R sold separately)
For use on sectional garage doors only, not for use on 1 piece garage doors
Model 3055-TKSV
 Notice to California Residents: As of 07/01/2019 This item cannot be shipped to the state of California due to Senate Bill No. 969. If the shipping address on any order is the state of California the order will be canceled. California residents must purchase a garage door opener with a battery backup included. Please see other options of Genie garage door openers with battery backup options to purchase. 
UPC: 050049020606
SKU: 38958U
ASK A QUESTION
View full details

SilentMax 750 3/4 HPc Ultra-Quiet Belt Drive Garage Door Opener with Wireless Keypad
$0.00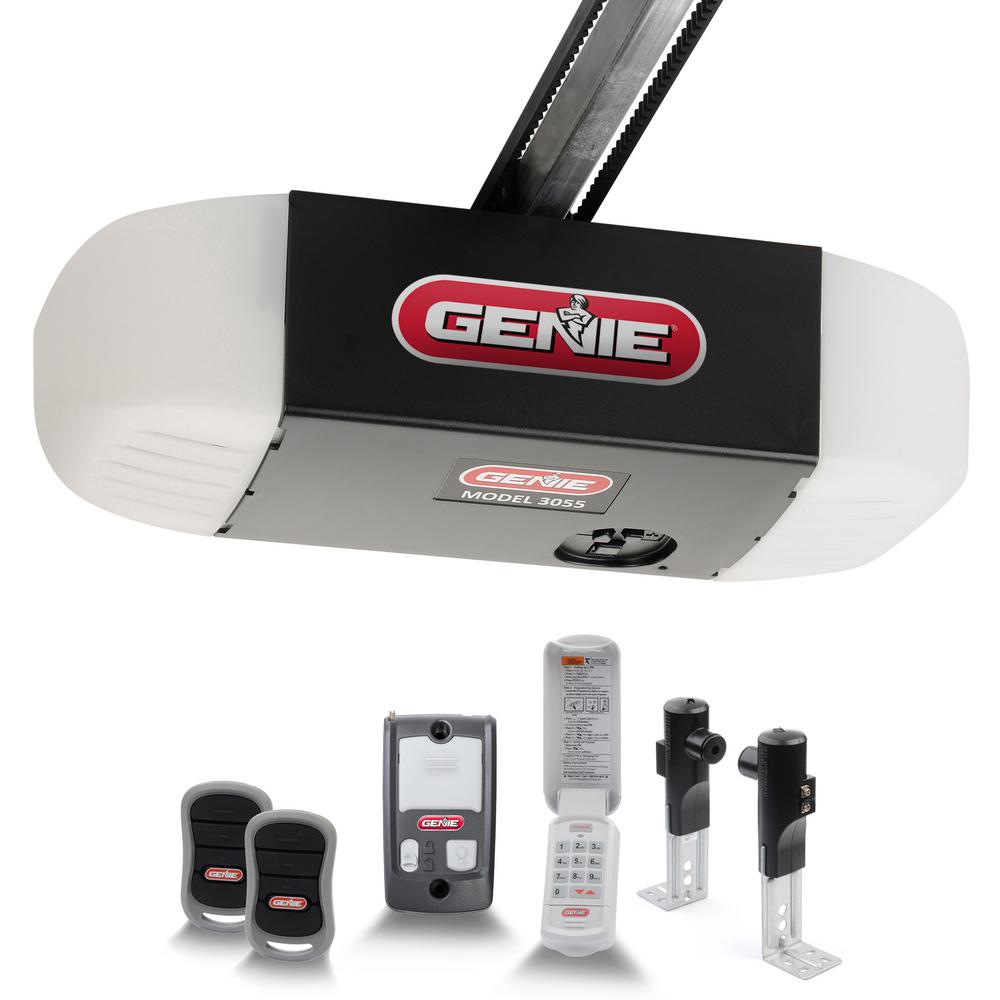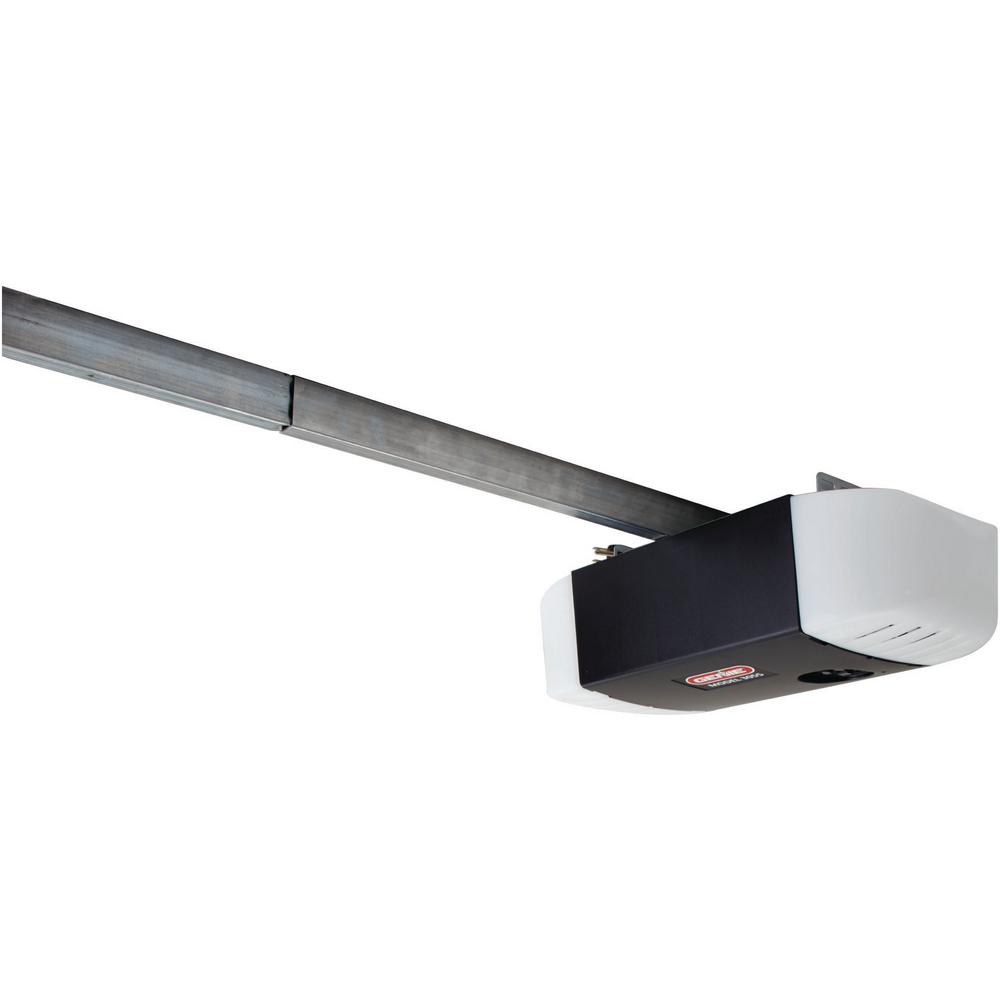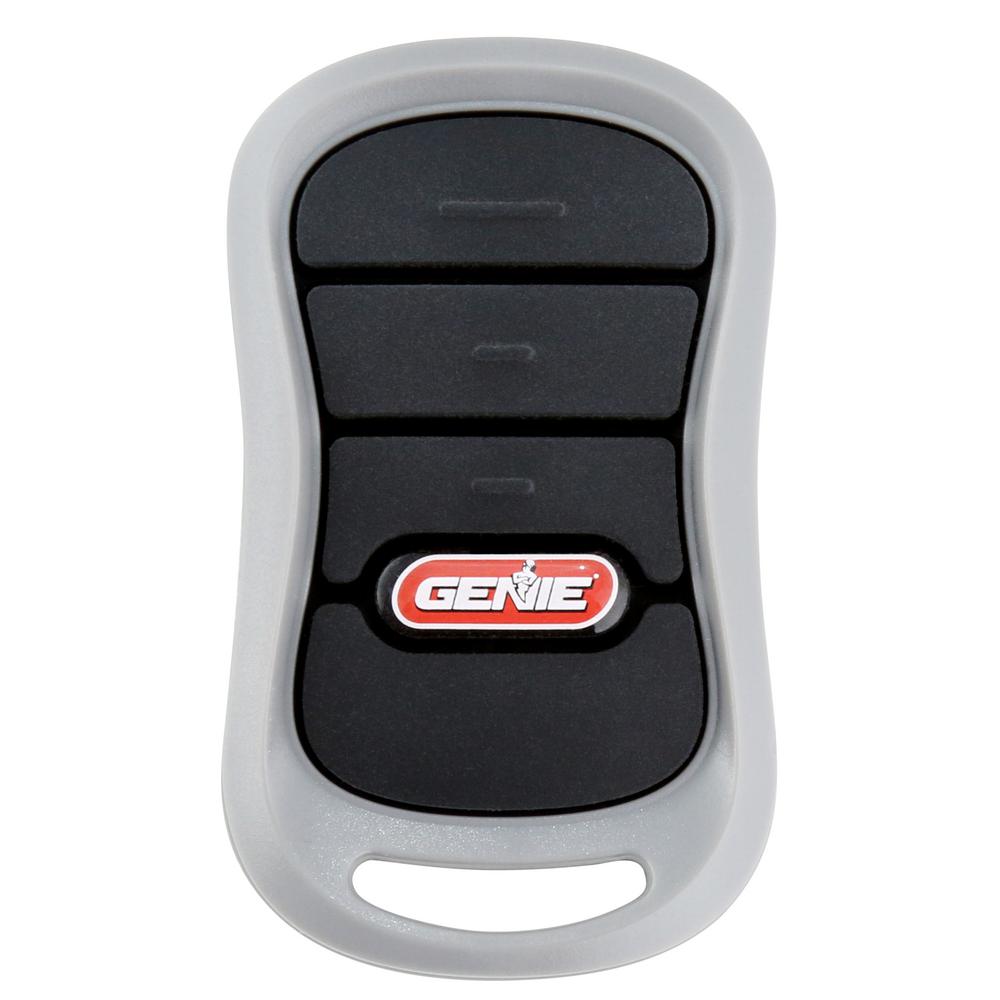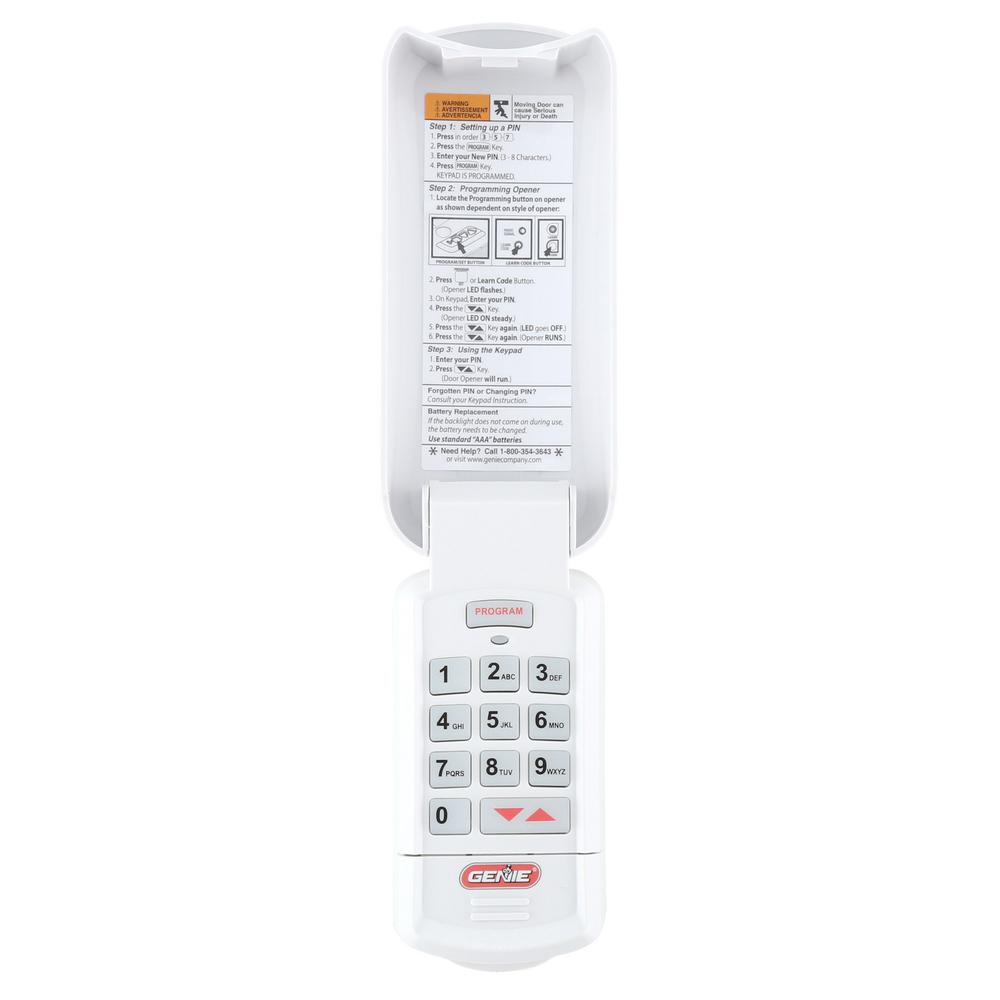 What rail extension kit do I need with Model 2055-TKVE Ultra Quiet Belt Drive garage door open. I have an 8 ft door.

The extension kit needed for Genie model 2055 is the Extension Kit (to 8') for 5 Piece, Belt Drive Tube Rails.

The traveler is squeaking is there a way to lubricate the bar

Yes, you can use silcone lubricant on the rail.

I installed the genie silentmax 750 3/4 hp model 3055. I noticed the top of the powerhead, above the programming keys stays warm. The other side on the top of the powerhead is cool. Is this normal? I checked this in the morning before using the opener. The garage had an ambient temperature of 75 degrees. The metal on the top of the powerhead above the programming keys was 80 degrees. The other side on the top of the powerhead was 75 degrees. 2nd question. I noticed the blue / purple programming lights will flash occasionally when the garage door is down and hasn't been operated. Is this normal?

It is typical for this part powerhead to be warmer, due to the location of internal parts. The occasional Blue/Purple flashing is also normal as long as the unit is not running.  This is indicating the system is seeing a signal or interference to another device not related to the opener, but since the signal is not matched the opener (programmed) it will not result in operation.

Where is is the circuit board located & how do you replace it?

The circuit board is located inside the powerhead. Please contact Genie customer service for technical assistance at 1-800-354-3643.

Is there a learn code button on model 7155- TKV

It is the square program-set button.

Is there a extension kit for a 10 foot garage door for this model? Thanks, Steve

No, this model will not work on a 10-foot high garage door. It will only work on up to an 8-foot high door with the added extension kit.

Does Genie make a 10' extension kit that works with this opener?

Hi Brian -
No we do not.  This unit will only work up to 8' high residential sectional garage doors by adding the extension kit available for 8' high doors found here: https://store.geniecompany.com/collections/extender-kits-for-7-rails-sold-at-retail/products/extender-kit-to-8-for-5-piece-belt-tube-rails

Why is the light at the bottom of the motor housing flashing red at me? The Garage door won't open or close. I can hear a click when we push the buttons but the door isn't moving. Ground sensors appear to be clear.

The red flashing light means an error. Are you just installing the garage door opener or was it working then stopped?

can battery backup be added to the 750 down the road?

No, it cannot.

Why does Amazon list Genie 750 as chain when Genie site and Home Depot list it as belt? As a non DIY and need a pro I keep reading belt is the way to go. Any thoughts? Thank U

There are different model Genie 750's. The belt is quieter, ideal for garages attached to living spaces. The chain and belt models are both reliable and dependable. The chain is normally offers a lower price model, the belt a little higher. It normally comes down to personal preference.

I would like to install this for my wife who drives a 2018 Honda CRV can you tell me will this three quarter horsepower Genie garage door opener work with the built-in Honda remote that her car has in it, or do I have to buy something else to make it work, thanks

If the Honda has Homelink for the remote system, then yes it will work.

Does this work over wifi (eg using a smartphone to control)?

You would need the Aladdin Connect retro fit kit to use your garage door opener with your smartphone.

Can I use multiple remotes with this door. I have the homelink remote in my car and need to use the hand held remote in my truck. I also wonder if I can give my son a remote.

Yes, the SilentMax 750 3/4 HPc Ultra-Quiet Belt Drive Garage Door Opener with Wireless Keypad will hold up to 16 remote devices.
Why Choose an Ultra-Quiet Genie Belt Drive Garage Door Opener
Installing a Belt Drive Garage Door Opener with the BILT App
Installation Video
This Genie product offers 3D Interactive Instructions in the free BILT® App available for download. 
Support for models: 
1035, 1055, 2036, 2033, 3053, 2035, 2055, 3035, 3055, 7035, 7055 (ChainDrive 550, Chain Drive 750, SilentMax® 550, StealthLift® 500, SilentMax® 750, Chain Glide Connect, SilentMax Connect, QuietLift Connect, Chain Drive 500, Chain Drive 525, QuietLift™ 750, StealthDrive® 750)
Genie Belt/Chain Garage Door Opener Installation Poster
Genie Belt/Chain Garage Door Opener Owners Manual
Standard Genie Garage Door Opener Features
Keeps your home and family safe by changing the access code from billions of combinations at each door activation to help prevent unauthorized access.

Patented technology that automatically finds the best line of communication between Genie® products. This maximizes the range of radio frequency devices and improves the overall performance of products.

Provides safety by continuously monitoring the operation of the garage door opener, stopping the operation to alert you when significant changes occur.
Add these accessories to Genie Belt Drive Garage Door Openers

FREE SHIPPING ON ALL US ORDERS 17.99 AND UP