Need replacement parts for this Genie Garage Door Opener model?  >>CLICK HERE<<
The QuietLift Connect belt drive smart garage door opener offers a DC motor paired with a steel-reinforced belt making the garage door opener very quiet and the ideal choice for garages that are attached to living spaces. The integrated Aladdin Connect Wi-Fi smartphone technology allows your garage door to be part of your smart home. The Genie Aladdin Connect smartphone app is free and allows you to set up individual users through their own app and set up virtual keys. This Genie Wifi garage door opener features a GenieSense enabled DC motor for powerfully opening 7ft high garage doors. Like all Genie garage door openers, the QuietLift Connect comes equipped with Intellicode rolling code technology that prevents unauthorized persons from opening your garage door. You will also enjoy the added conveniences of 2 pre-programmed 3 button garage door opener remotes for quick set-up. A wireless exterior keypad, and a wall control panel with an independent light button and vacation lock for added security. The Genie Safe-T-Beam garage door safety sensors ensure your family's safety and help prevent accidents with an infrared beam of light across the door opening. 
Keeps you connected without the need for added hardware

Aladdin Connect is compatible with the most popular smart home platforms like Amazon Alexa and Google Assistant

Set-up is a breeze, simply download the free Aladdin Connect App, connect your homes Wi-Fi and you have a smartphone connection in no time

3/4 HPc DC motor will smoothly and quietly lift sectional garage door up to 7 ft. in height and up to 500 lbs. in weight

Limited lifetime warranty on maintenance-free precision-machined motor and gearbox

Easy-to-install strong 5-piece rail system snaps together with no added hardware

Safe-T-Beam system keeps your pets and family safe by reversing the closing door if anything passes through the infrared beam

Keep your home safe with state-of-the-art security of Genie Intellicode that changes the opener's access code when the remote is used

GenieSense monitoring technology minimizes wear and tear by always monitoring the door

Includes two preprogrammed 3-button Genie remotes and multi-function wall console

Works with popular built-in car remotes systems such as HomeLink and Car2U (Genie exclusive)

Lightbulbs not included; for best results use Genie LED light bulbs
Designed for 7 ft. doors; extension kit available for 8 ft. high residential garage doors (part number 39026R sold separately)
Model 3053-TKV
 Notice to California Residents: As of 07/01/2019 This item cannot be shipped to the state of California due to Senate Bill No. 969. If the shipping address on any order is the state of California the order will be canceled. California residents must purchase a garage door opener with a battery backup included. Please see other options of Genie garage door openers with battery backup options to purchase.  
UPC: 050049021450
SKU: 39626S
ASK A QUESTION
View full details
QuietLift Connect ¾ HPc Garage Door Opener- Wi-fi Enabled Ultra Quiet Belt Drive - Works W/ Amazon Alexa and Google Home
$0.00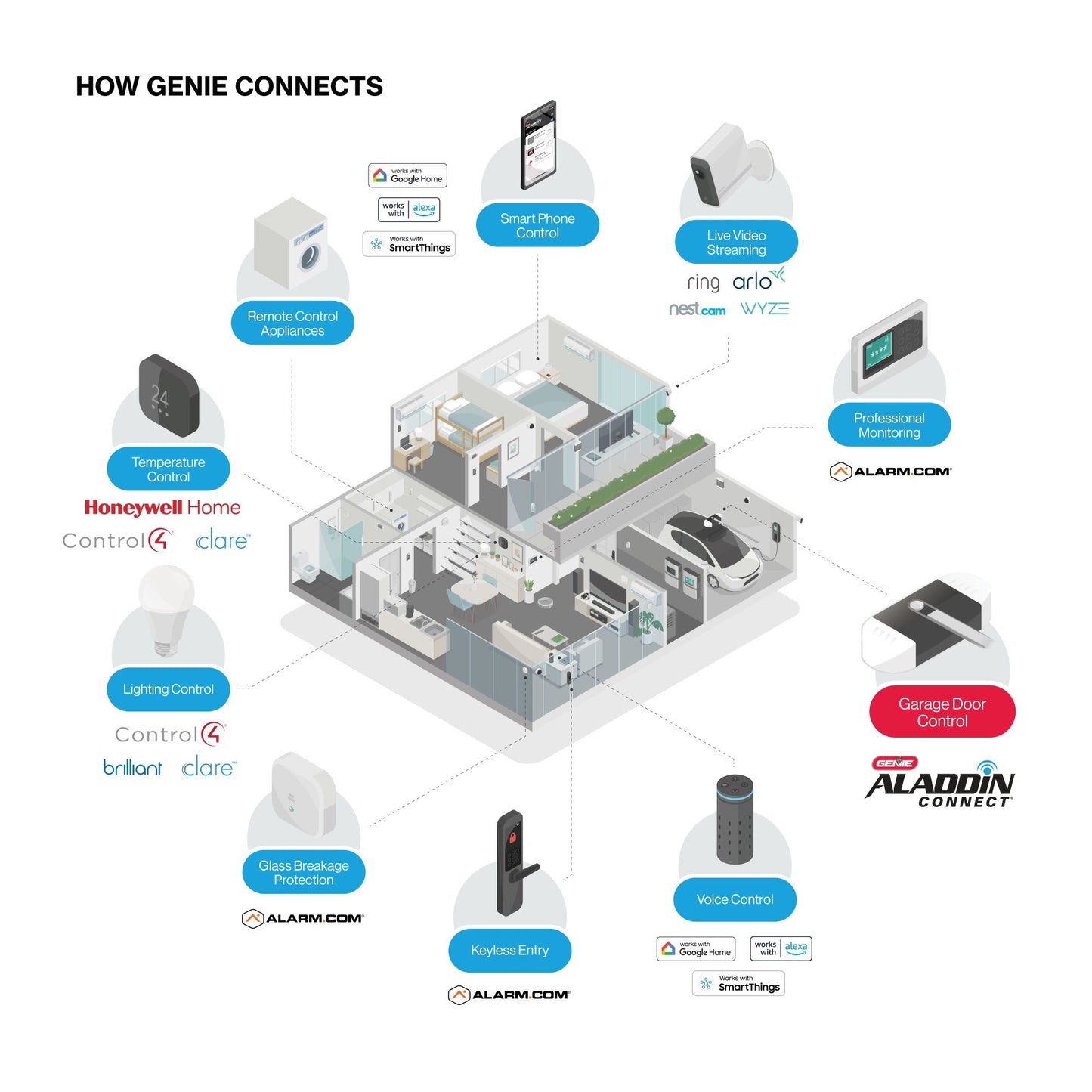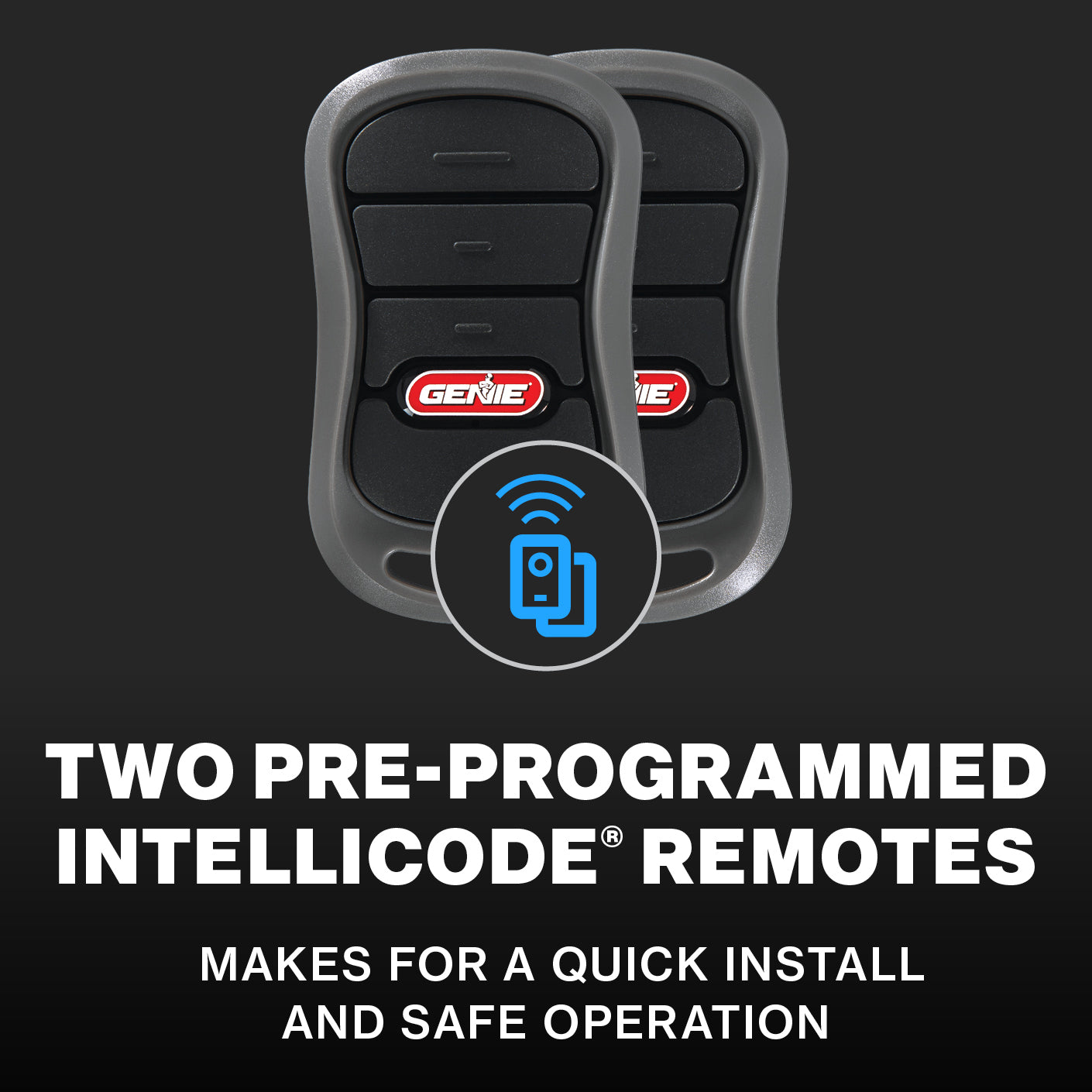 My lights will not come on

If your lights will not come on please follow the below instructions:


This issue you are having is called constant light.  First make sure to attempt to turn your lights off by the light button on the wall switch.  If that does not work, we will need to determine what is causing the issue by completing the following steps. Remove the wall console from the wall, loosen the screws and remove the wires on the back, separate wires so they do not touch.  Then wait 6 full minutes to see if the lights go out.  If so, the wall button needs to be replaced, if not follow the wall button wire to the motor head on the ceiling.  Remove the wall button wires from terminals 3 and 4, then wait 6 full minutes to see if the lights go out, if so the wiring to the wall button needs replaced.  If the lights still do not go off, the circuit board is the issue.  Please let us know the results to this and we can assist you further.

Does this model have a setting that will automatically close the garage door if the owner forgets to close it? If not, are there other models that provide this option?

Yes, the QuietLift Connect ¾ HPc Garage Door Opener- Wi-fi Enabled Ultra Quiet Belt Drive - Works W/ Amazon Alexa and Google Home has Aladdin which will allow a rule like this to be setup.  You can setup rules to close at certain times or after the door is open so long.

Programming manual for key pad???

I have included the GK keypad instruction manual.


Thank you.

Model 3053-TKV has C channel Rail?

No, it does not.

Is there a battery back up already installed in this model or is there one that can be purchased?

This model does not have a battery backup installed and one cannot be added to it.

Can belt and track be shortened?

No, this belt/ rail cannot be cut down.

Is the model plug and play ready for a backup battery?

The QuietLift Connect can not have a battery backup added to it.

Does the Model 3053-TKV include any of these: Soft start-stop; motion detector light; close timer

The 3053-TKV model garage door opener does have the soft start-stop, it does not have a motion detector or close timer. You can use the Aladdin Connect app once it is installed on your smart device to automate door closing times.

Which of your belt drive models have a manual release? And do any have a soft start/stop function?

All of our garage door openers have the emergency pull cord function for the manual release. To view the features of our different garage door openers, like GenieSense technology or soft start/stop you can view our DIY retail models here: https://www.geniecompany.com/garage-door-openers/retail.aspx

Will the 4042 opener work on a eight foot door?

Yes, it will as long as you add the extension kit, EKBC to it.

Does this opener come with track allso

Yes, it does! 

How long can I expect the belt to last? I currently have a Genie screw drive and the threads on the screw are wearing out. Would a chain drive last longer than the belt or screw drive?

This can vary depending on usage, and other factors. The belt does have a fifteen-year warranty (on the belt itself). 
Why Choose an Ultra-Quiet Genie Belt Drive Garage Door Opener
Installing a Belt Drive Garage Door Opener with the BILT App
Installation Video
This Genie product offers 3D Interactive Instructions in the free BILT® App available for download. 
Support for models: 
1035, 1055, 2036, 2033, 3053, 2035, 2055, 3035, 3055, 7035, 7055 (ChainDrive 550, Chain Drive 750, SilentMax® 550, StealthLift® 500, SilentMax® 750, Chain Glide Connect, SilentMax Connect, QuietLift Connect, Chain Drive 500, Chain Drive 525, QuietLift™ 750, StealthDrive® 750)
Genie Belt/Chain Garage Door Opener Installation Poster
Genie Belt/Chain Garage Door Opener Owners Manual
Standard Genie Garage Door Opener Features
Keeps your home and family safe by changing the access code from billions of combinations at each door activation to help prevent unauthorized access.

Patented technology that automatically finds the best line of communication between Genie® products. This maximizes the range of radio frequency devices and improves the overall performance of products.

Provides safety by continuously monitoring the operation of the garage door opener, stopping the operation to alert you when significant changes occur.
Add these accessories to Genie Belt Drive Garage Door Openers

FREE SHIPPING ON ALL US ORDERS 17.99 AND UP